Italy's League Seeks Far-Right Ally to Box In Five Star
(Bloomberg) -- The League party of Deputy Prime Minister Matteo Salvini is in talks over recruiting the far-right Brothers of Italy to join the ruling populist coalition, according to two people familiar with the matter.
Giorgia Meloni, leader of Brothers of Italy, has met a senior government official of the anti-migration League to discuss bolstering the parliamentary majority behind the government, currently made up of the League and the anti-establishment Five Star Movement, one of the people said.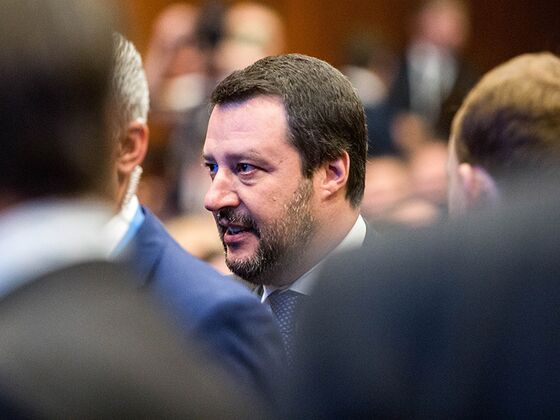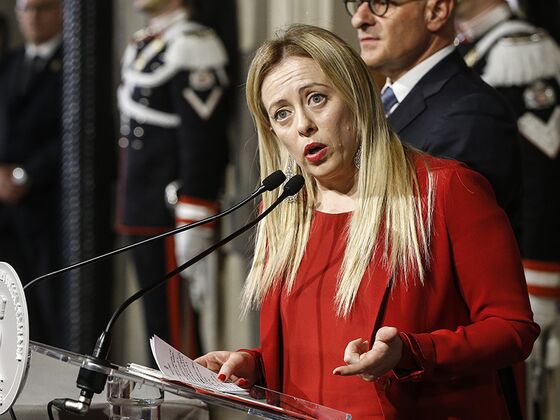 Meloni's main demand in exchange for support is a promise from the government that it will not change the way the European Parliament's elections are held in late May, the person said. Meloni wants to ensure that preferential voting is maintained, to maximize her party's chances of overcoming a threshold of four percent of votes to win a seat.
Brothers of Italy could be offered the defense ministry in exchange for its support, the person said. The defense minister is now Elisabetta Trenta, a former Five Star candidate for the Senate.
The move is a power play by Salvini that would cement his dominance over the coalition -- giving away a ministry currently controlled by Five Star and bringing in a new partner that will offer support for his anti-immigration push. The move would highlight how marginalized Five Star leader and Deputy Premier Luigi Di Maio has become.
Brothers of Italy, which is in partnership with the League in local elections across the country, voted against the government's 2019 budget and has demanded tax cuts and stronger curbs on illegal immigration from north Africa. Meloni herself said in a Twitter post in August that "the only solution to the invasion is a naval blockade."
Spokeswomen for Brothers of Italy and the League said they were not aware of such a meeting.
The ruling coalition now has a majority of about 10 seats in the 320-seat Rome Senate. Five Star expelled two of its members on Dec. 31 for disobeying party voting instructions. Brothers of Italy has 18 Senators.
For all the controversy over its budget plans last year, the coalition managed to push its budget plan through both houses of parliament using confidence votes, once the executive had squared it off with Brussels.
While analysts have speculated that Salvini, whose League party has leapfrogged Five Star since the March 4 general election, may trigger a snap vote this year to take full control, this maneuver would boost his clout in the government without having to risk another vote.
Support for the government from the Brothers of Italy would not only strain relations between Five Star and the League, but also within Five Star, whose lawmakers cover a broad range of the political spectrum.