Italy's Gaffe-Prone Populists Look on Recession's Bright Side
(Bloomberg) -- Italy has slipped into a recession during the populist government's eight months in power, but its leaders remain convinced it's only a blip.
Prime Minister Giuseppe Conte let the cat out of the bag on the eve of a highly-awaited fourth-quarter gross domestic product number released Thursday. He admitted the economy would shrink, sparking criticism that the numbers had been leaked to him -- which he denied. Despite the bad news, he insisted things would improve in the second half of this year.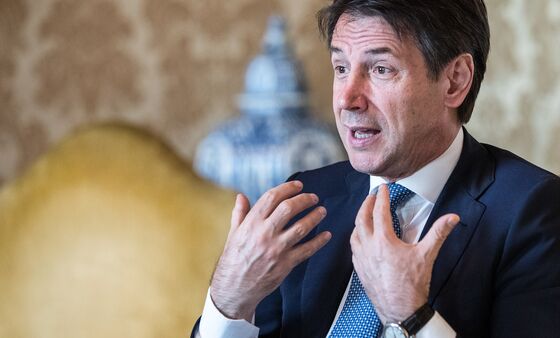 Just last week, Conte said in a Bloomberg interview in Davos that he expected GDP to climb as much as 1.5 percent this year and ruled out any need for a budget adjustment to meet targets.
With the economy shrinking 0.2 percent in the final quarter of last year, that goal seems difficult to reach and may make it harder for the government to go ahead with its spending plans without breaking budget promises to the European Union. The Bank of Italy and the International Monetary Fund have each forecast 0.6 percent growth this year.
Deputy Premier Luigi Di Maio also weighed in after Thursday's data release. He staged a celebratory news conference on the government's record so far, entitled: 'If we say we'll do it, we do it."
The timing was unfortunate, to say the least. He later praised the government for improved data on employment in the fourth quarter, while blaming the previous center-left administration for lower growth in the same period. Earlier this month Di Maio had heralded the birth of "a new economic boom" for Italy.
The opposition was quick to scent blood. "Accusing the previous governments for the current recession is ignorant or in bad faith, all one needs to do is look at the data to understand that," said former Finance Minister Pier Carlo Padoan.
"What credibility can be given to a government which in just a few weeks says everything and its opposite?" asked Andrea Mandelli, head of lawmakers of ex-Premier Silvio Berlusconi's Forza Italia Party in the Lower House.