Italian Bonds Slide as Tempers Flare Over Budget Proposals
(Bloomberg) -- Italian bonds declined as Deputy Prime Minister Luigi Di Maio clashed with Giovanni Tria over budget proposals, adding another layer of uncertainty over the future of the finance minister.
Ten-year yields climbed from the lowest level in more than a month after La Stampa reported that Di Maio said ministers at a top-level government meeting Monday evening were unwilling to approve his proposal to provide basic income for the poor.
"If things continue like this, Tria can go home," Di Maio, leader of the Five Star Movement, one of the parties in Italy's coalition, was cited as saying.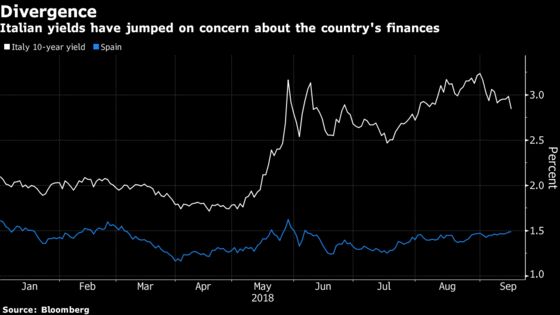 Italy's 10-year yield rose two basis points to 2.87 percent as of 8:18 a.m. in London, after falling to 2.84 percent Monday, the lowest since Aug. 8. The yield on the current 10-year bond had slipped about 40 basis points this month through Monday on optimism the populist government's budget will respect the European Union's deficit limit of 3 percent.
"The headlines we received from last night's budget meeting are hardly inspiring," said Christoph Rieger, head of fixed rates strategy at Commerzbank AG. "So after the strong rally we have seen, this is giving rise to some profit-taking."
The La Stampa report marked a second week of speculation over Tria's continued presence in the administration. Various reports last week said he was under pressure, and the finance ministry had to deny a story that he'd threatened to resign over the costly basic-income plan.
Tria, who is due to speak at a Bloomberg conference in Milan on Tuesday, is caught in the middle between the budget promises of the government, which also includes Matteo Salvini's League, and demands from the EU to keep the deficit in check.
Also in the mix is tension between the coalition partners over which budget plans to prioritize. According to the Stampa report on Tuesday, Di Maio said his party objected to a conditional amnesty for tax evaders proposed by the League. In remarks to reporters after the meeting, he said, "we are absolutely not in agreement with that."