Salvini Says Juncker's Austerity Regime Is Europe's Real Enemy
(Bloomberg) -- Italian Deputy Prime Minister Matteo Salvini said Europe's real enemy is Jean-Claude Juncker and the Brussels bureaucracy that pushes budget restrictions and open borders. Italian bonds and stocks tumbled.
Sitting alongside French nationalist Marine Le Pen at an event in Rome, Salvini said that next year's European Parliamentary elections will be a showdown between those focused on creating jobs and those more concerned with imposing austerity like Juncker, the president of the European Commission, and Pierre Moscovici, the European Union's economic policy chief.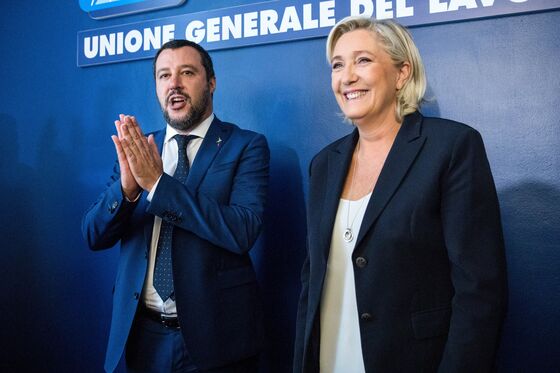 "We are against the enemies of Europe -- Juncker and Moscovici -- shut away in the Brussels bunker," Salvini said. "The politics of austerity of the last few years have increased Italian debt and impoverished Italy."
As the Italian administration opens another front in its campaign against the European Union's core principles, investors are cranking up the pressure. Ten-year yields crossed 3.5 percent for the first time since 2014 on Monday and traded at 3.59 percent at 11:15 a.m. in Rome. The nation's benchmark FTSEMIB stock index fell to its lowest level since April 2017.
"I say to those who are thinking of speculating on the Italian economy that they are wasting time and wasting money because we will not go back," Salvini said.
The populists setting the agenda in Italy are training their attacks on the European establishment as they prepare for the next battle over the 2019 budget. Salvini and his ally Luigi Di Maio are targeting next May's EU elections as a chance to roll back the budget rules that have cramped their style since taking office.
Di Maio over the weekend promised the ballot will be an "earthquake." He's in Berlin Monday for talks with officials including Economy and Energy Minister Peter Altmaier while Prime Minister Giuseppe Conte hosts the EU's chief Brexit negotiator Michel Barnier.
Le Pen said she and Salvini aren't fighting against Europe, "We fight against the European Union, it has become a totalitarian system." She said the aim is to win the EU elections next year and work together for a "Europe of nations" which gives power back to the people, taking it away from the European bureaucracies.
Salvini and Di Maio are trying to sustain the momentum behind their political takeover of Italy as their plans to cut taxes and ramp up benefit spending puts them on course for a collision with the EU budget police and the investors they need to finance their plans.
"If neither the EU or Italy back down, yields will continue to climb higher from here," said Jens Peter Sorensen, chief analyst at Danske Bank A/S.
The government has to send a draft budget to Brussels by Oct. 15 and EU officials have signaled that their plans for a deficit of 2.4 percent of GDP next year will put them in breach of EU rules.
"What we see is worrying," Klaus Regling, the head of the European Stability Mechanism, said in an interview with Bloomberg Television. "The fiscal targets announced by the new government that came into office a few months ago are out of line with the agreed fiscal framework that euro-area countries have given themselves unanimously."
Read more: Italy's full macroeconomic forecasts, targets 2019-2021
The Rome-based parliament will start debating the government's budget outline on Tuesday morning with Finance Minister Giovanni Tria holding the first of a series of hearings by the country's main institutions before the Lower House and Senate joint budget committees. The government is expected to submit a draft budgetary plan to the EU commission by Oct. 15. The national parliament has to approve the budget law by year-end.