Italy's Deficit Tussle Highlights Growing Power of Populists
(Bloomberg) -- Sign up to the Brussels Edition, a daily morning briefing on what matters most in the heart of the European Union.
The Italian establishment has been dealt a body blow by the populist duo of Luigi Di Maio and Matteo Salvini who have won their first battle to fund costly campaign promises.
After long and tense negotiations which threatened the job of Finance Minister Giovanni Tria, deputy premiers Di Maio and Salvini announced triumphantly Thursday night that the government had agreed to set next year's deficit target at 2.4 percent of gross domestic product.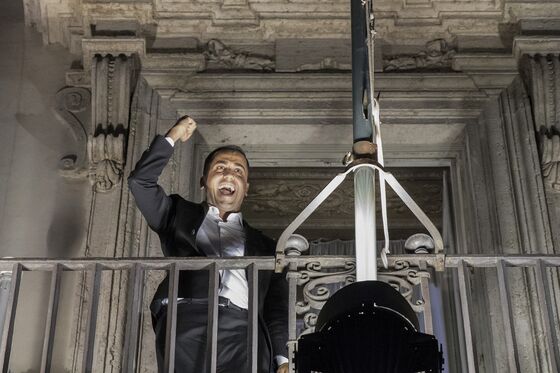 That's over the 2 percent threshold which emerged as a litmus test for financial markets worried that pressure to deliver on election promises would jeopardize state finances and breach European Union budget limits.
Claudio Borghi, the euroskeptic head of the budget committee in the lower house, said in an interview with Corriere della Sera that Italy won't be "hostage" to the markets.
Italian bonds tumbled on Friday, with the 10-year yield rising as much as 21 basis points, the most since June. It was 19 basis points higher at 3.08 percent at 8:50 a.m. in Rome. Two-year yields jumped 26 basis points to 1.02 percent.
The target is a setback for Tria and President Sergio Mattarella. They had sought to moderate the more extreme instincts of the government, formed in June by Di Maio's anti-establishment Five Star Movement and Salvini's anti-migrant League.
"This is a defeat for Tria," said Erik Jones, professor of international political economy at Johns Hopkins University in Bologna. "Debt is going to grow relative to GDP, and the government's going to be under pressure as it drafts the budget."
The finance chief said he'll stay in his job because he has a responsibility to help maintain stability, La Repubblica newspaper reported. Mattarella had urged him not to quit, newspaper Sole-24 Ore said.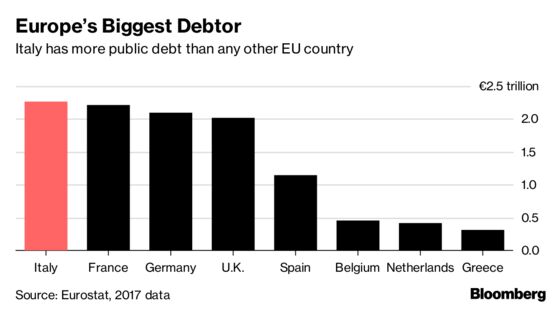 "I won't quit, for the good of the country," Repubblica cited Tria as saying. "There would be the risk of a financial storm. We would throw the country into chaos.31"
The fiscal targets set a framework for a draft 2019 budget that the government has to present to the European Commission by mid-October for approval. Five Star and the League want to deliver on expensive campaign promises to shore up support ahead of European Parliament elections in May.
That ballot will reveal just how powerful euro-skeptic forces have become as right-wing parties across the region step up their attacks on ruling elites, press for greater national sovereignty, and seek stricter limits on migration.
"Mamma mia," exclaimed an EU official stunned by the deficit figure. The official, who spoke on condition of anonymity, said the headline deficit should have been around 1.6 percent to ensure a marginal improvement in the structural balance. The 2.4 percent figure squarely puts Italy in breach of its obligations, the official said.
Tria has been locked in a tussle especially with Di Maio, who said this week that a budget deficit above 2 percent "isn't a taboo," and that the government needs to spend lavishly to boost growth. For Five Star, the issue had also become a way to recapture the initiative from the League's Salvini who has jumped ahead of Di Maio in opinion polls.
Di Maio and Salvini said measures agreed Thursday included a basic income for the poor, tax cuts and rolling back a pension reform which had raised the retirement age. Di Maio hailed "a budget for the people, which for the first time in the history of this country cancels poverty thanks to the citizen's income." He said it would cost 10 billion euros ($12 billion).
Salvini has taken a more discreet stand in public, but in ministerial meetings he has also pushed for a wider deficit, according to a government official close to the League.
Tria, Mattarella, Conte, and Foreign Minister Enzo Moavero Milanesi have formed a quiet alliance based on their shared commitment to the EU and its budget rules, according to senior officials. The front also includes Ignazio Visco, governor of the Bank of Italy who warned a wider deficit could spook markets and produce an "unsustainable" risk for the country's 2.3-trillion-euro debt.
Di Maio has suffered more from the growing tensions in the coalition than Salvini, who has won backing for his party with his hard line on immigration. Support for the League has risen to 32 percent, while Five Star has declined to 28.7 percent, according to an SWG Institute poll published this week. In March's general election, the League got 17.4 percent of the vote and Five Star 32.7 percent.
"Attention will now turn to the details and assumptions of the budget to determine whether they are attainable or not," said Mohammed Kazmi, portfolio manager at Union Bancaire Privee. "The reaction of the European Commission will be important to track given previous concerns of this coalition clashing with European officials."
Five Star adopted a defiant stand moments after the deficit target was agreed.
"We don't fear the markets," said Stefano Patuanelli, head of Five Star senators. "At last the government is answering the demands of citizens."