Italy's Conte Courts Trump as His Coalition Allies Bait EU
(Bloomberg) -- Italy's Prime Minister Giuseppe Conte is set to burnish his government's ties with the Trump administration, after his deputy premiers stoked tensions with the European Union.
The meeting at the White House on Monday comes after President Donald Trump signed a truce in the trade confrontation with the EU last week. Yet it also comes at a time when Conte's two political sponsors, who share Trump's anti-establishment rhetoric, have stepped up their confrontation with European partners.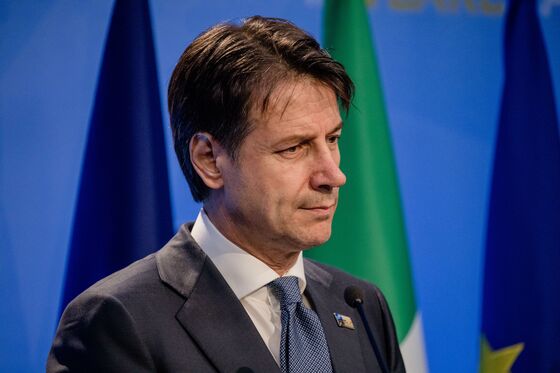 League leader and Deputy Prime Minister Matteo Salvini said Italy would back the U.K. in trade talks with the EU, in an interview with the Sunday Times newspaper. Five Star leader Luigi Di Maio said in an interview the government will forge ahead with its bold spending plans, setting up a clash with the bloc's fiscal rules.
Italian government bond yields are up on the latest political noise, with the 10-year benchmark rising to as much as 2.8 percent on Monday. Since the political crisis in late May that led to the creation of the populist government the returns on Italy's debt have increased and are now closer to that of Greece than of Spain.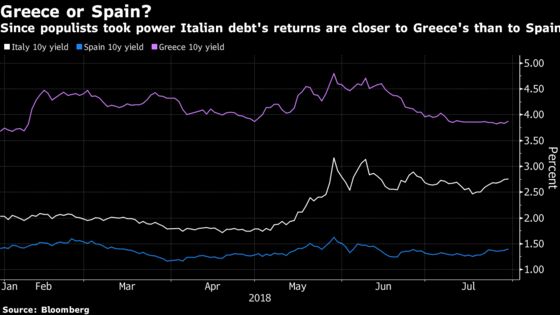 "Italy is the country which is closer to the U.S. unilateral approach to foreign policy -- at least in terms of method, if not always on policies," said Gianluca Pastori, a professor at Milan's Sacro Cuore university. "What's now to be seen is whether there's actual convergence between the two."
Conte is set to tout Italy's role as a potential "facilitator" in U.S.-EU relations, according to sources close to Conte's office cited by the news agency Ansa. He will seek Trump's support especially on Libya, proposing closer coordination on migration and security in the Mediterranean. Specifically, he will seek support for a delay of a France-backed plan to hold elections in the country on December 10, according to Italian media.
Conte met with the U.S. president already twice before. At a summit in June, Italy's premier came out in support of Trump's suggestion to readmit Russia to Group of 7 meetings -- a proposal that was promptly shunned by the other leaders. Yet Italy has dithered on committing to increased military spending, a key request from Trump to European allies.
Italy would suffer a major blow if Trump were to follow through on his threat to slap tariffs on car imports from Europe. But Conte will also seek to ensure protection for Italy's food exports, according to Ansa
Conte and Trump are set to hold a joint press conference at 8 p.m. CET.