Macron's Bow to Italy Paves Way for Possible EU Migration Deal
(Bloomberg) -- French President Emmanuel Macron and Italian Prime Minister Giuseppe Conte buried their differences and agreed on a set of proposals to better handle inflows of migrants, a trade-off that may form the basis of a compromise deal among European Union leaders.
The late-night draft centered on a combination of measures to strengthen the European Union's external borders, sift out those migrants who aren't eligible for asylum status and more "solidarity" in distributing those who are. Discussions continued well into the early hours of Friday amid resistance from Hungary, which has refused to accept any migrants under a previously agreed quota system.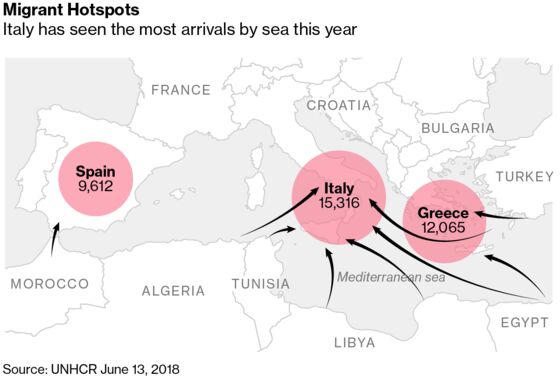 The proposals, if accepted, represent a concession to Italy and a significant hardening of the EU's stance on migration. They came together after Conte risked throwing the summit into disarray with a threat to veto all other matters, from trade to security, unless he could get a deal in line with a 10-point plan he brought to the two-day meeting in Brussels.
The draft he agreed with Macron included plans for so-called regional disembarkation platforms that would allow for "rapid and secure processing" of asylum seekers to separate out economic migrants. Also proposed were "controlled centers" that would handle those rescued at sea, identifying "irregular migrants" to be returned and refugees in need of protection under international law. In a nod to Italy, which has received the most migrants to Europe for three straight years, the centers would be located in EU countries on a voluntary basis only.
Italy also secured language on the need to overhaul the Dublin rules which dictate asylum seekers must make their request in the first EU state they set foot in. Dublin must be reformed "based on a balance of responsibility and solidarity," suggesting that migrants arriving by boat could be distributed among EU countries before they disembarked.
The outline compromise may still prove as difficult to implement as previous incarnations of a migration plan. It comes amid a bloc-wide dispute over migration that has reopened a north-south rift and undermined east-west ties, while threatening the German chancellor's coalition in Berlin. It's also unclear whether the proposals outlined in the draft will be sufficient for Angela Merkel to sell back home in Germany.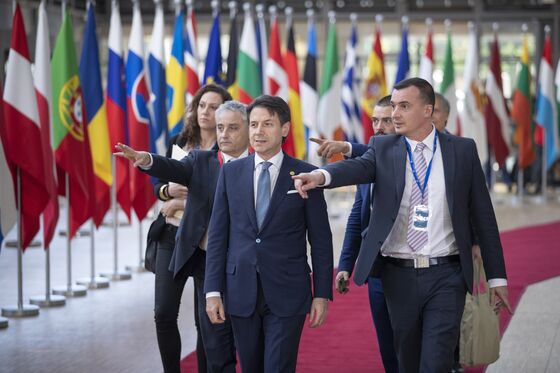 Interior Minister Horst Seehofer, who heads Merkel's Bavarian sister party, has told the chancellor to broker a deal that would allow migrants to be sent back to the first country in which they registered and curb so-called secondary migration between EU states.
Without such an assurance, he has threatened to defy the chancellor and order migrants turned away, risking a historic split between the two parties that could rob Merkel of her parliamentary majority.
The draft only mentions secondary migration in point 10 of 11 points, saying that it jeopardizes the integrity of the passport-free Schengen area. Member states are urged to "take all necessary internal legislative and administrative measures to counter such movements" and to cooperate closely.
The German troubles represent the tip of a deeper political crisis in Europe as advocates of a harder line in countries including Austria, Italy and in eastern Europe sense the momentum is with them to push their case. In a speech to the Bundestag earlier on Thursday, Merkel warned that the issue of migration "may well turn into a question of the EU's destiny."
Italy's political neophyte prime minister nearly proved her right with his brinkmanship as the talks began on Thursday afternoon. Conte refused to allow other topics such as trade to be signed off until migration was handled, insisting to his fellow leaders that agreement had to be reached on all conclusions or none.
A veto would have been an unusual step nullifying not just aspects of migration policy, but also the leaders' conclusions on all other matters, effectively wrecking the summit. The stalemate forced the cancellation of a planned press conference by EU leaders Jean-Claude Juncker and Donald Tusk.
Macron had asked for a meeting with Conte just before the summit started, but there was no time, according to an Italian official. Later, Macron tweeted a picture of himself in shirt sleeves side-by-side with Conte, jacket on, as they went through the text. The Italian official stressed what he called "the change of attitude" by the French.
"With Giuseppe Conte, we are working together to find a European agreement on the sharing of refugees," Macron said in a tweet.