Italy's Conte Heads for Showdown With Key Ally Ready to Quit
(Bloomberg) -- The government of Italian Prime Minister Giuseppe Conte is on the brink of collapse after a junior ally renewed a threat to abandon the coalition, jeopardizing the country's attempt to counter the pandemic and salvage its economy.
Ex-Premier Matteo Renzi, leader of the Italy Alive party which is languishing at 3% in opinion polls, said his group will decide Wednesday whether to topple Conte's government by withdrawing its ministers.
"We don't want to be in government at all costs, if you want us to be in the government, listen to our ideas," Renzi said in an interview with Rai state television Tuesday night. He said the party would decide on Wednesday morning and give its decision in an afternoon press conference, likely at 5:30 p.m. Rome time.
Renzi's ministers are expected to resign from the government in a letter they will send at 5 p.m. Wednesday afternoon, daily la Repubblica reported.
A Renzi decision to remove his ministers from the coalition would rob Conte of his parliamentary majority and come at the worst possible time for the country, which has been waging a battle against a worsening pandemic and a recession, while taking on the presidency of the Group of 20 nations.
Possible scenarios following a Renzi pullout include a third Conte government, a similar coalition with a different premier, a broad alliance headed by a figure like ex-European Central Bank president Mario Draghi, or early elections. Renzi said in the television interview that he believes Conte on Wednesday will unveil a group of lawmakers ready to support him.
Surveys show the center-right opposition would likely win a new ballot.
Renzi has taken Conte to task over his plan for spending Italy's estimated 196 billion-euro ($239 billion) share of the European Union's recovery package. The plan was approved early on Wednesday during a night-time cabinet meeting, Conte's office said in a statement.
The former premier has escalated pressure on Conte since late last year, slamming the premier's plans for managing and spending EU funds. He says the plan has been improved following his demands, but he's insisting on further conditions, including that Italy tap a European Stability Mechanism credit line for health spending.
He also wants Conte to share power with coalition parties, spend more on healthcare and give up control of the country's secret services.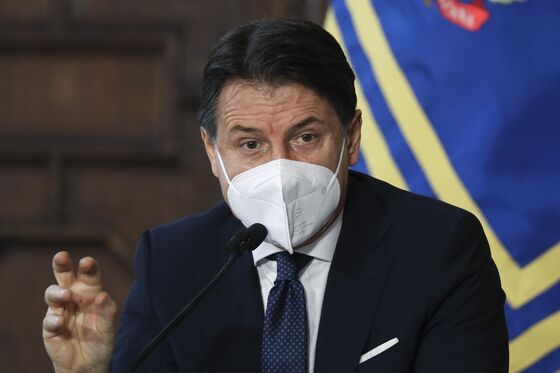 A new round of uncertainty and political maneuvering could hamper the government's plans to impose tighter restrictions to curb the virus, which has infected more than 2 million in the country to date, and to push through measures to help businesses hit hardest by the pandemic.
The machinations will also likely stall a series of contested corporate moves including the sale of infrastructure giant Atlantia SpA's stake in highway operator Autostrade per l'Italia SpA, the rescue of flagship airline Alitalia and the search for a buyer for bailed-out lender Banca Monte dei Paschi di Siena SpA.
Conte, a former law professor, could seek to obtain support in parliament -- though he would face a tough vote in the Senate -- or attempt to carve out a new administration. Conte was plucked from obscurity in 2018 to head a government with Five Star and the anti-migrant League. He forged a second coalition with Five Star and the Democratic Party the following year, after League leader Matteo Salvini ditched the alliance.