Italy's Conte Calls on Lawmakers to Back His Plan to Govern
(Bloomberg) -- Italian Prime Minister Giuseppe Conte urged lawmakers to rally behind him and back his program to continue governing, as he struggles to bolster his coalition after the defection of a junior ally.
"It is possible to find once again among parliamentary forces an agreement on reforms to relaunch the country," Conte said in Rome on Monday. "Help us, help us to restart as fast as possible."
Conte, who's in his second term as premier, made his appeal in the lower house ahead of a confidence vote due Monday evening. He was seeking to recruit pro-European centrists, unaffiliated lawmakers and even potential defectors from the small Italy Alive party headed by ex-premier Matteo Renzi, who ditched the ruling coalition last week.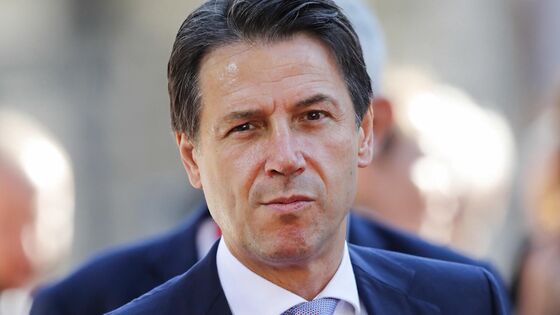 While the 56-year-old Conte is expected to win an outright majority in the lower house, he faces a tougher fight in the Senate on Tuesday where he may manage to muster only enough votes to limp on as head of a minority government. The weakened premier might then have to spend weeks seeking backing for a broader administration with a new program, officials said.
In his comments Conte focused on decisions over spending Italy's share of the European Union's recovery fund -- the issue that triggered Renzi's pullout -- and handling of the coronavirus pandemic. The result of the lower house vote is expected at about 8:30 p.m. Rome time.
Making his pitch, Conte urged "transparent" backing for "an inescapable pro-European stand," excluding anti-EU forces, to forge a new alliance and a government program to last until the end of the term of parliament in 2023. "Go home, go home," opposition lawmakers chanted in reply.
The premier, who led a euroskeptic coalition in his first government, also warned against more political turmoil, saying tensions so far have affected the spread between Italian and German bonds -- an issue which helped to force out ex-premier Silvio Berlusconi in 2011.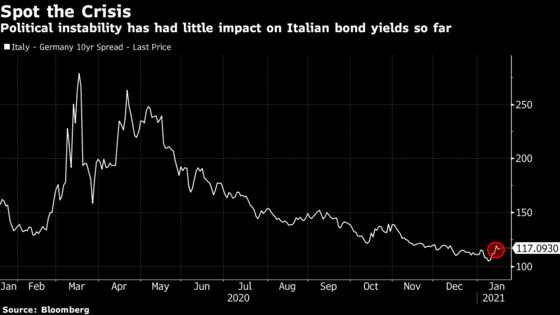 "So far, political tensions have had no significant impact on investor confidence, unlike in earlier Italian political crises, due to the European Central Bank's supportive monetary policies," said Dennis Shen and Giulia Branz at Scope Ratings GmbH.
To secure parliamentary support, Conte promised he would relinquish control of Italy's secret services, giving in to criticism by Renzi and other parties, as well as of the agriculture ministry, which he took over following its minister's resignation.
Conte offered a lengthy list of priorities for a new government pact, ranging from the recovery fund to green-friendly measures, sustainable fishing, services for families and the elderly, digitalization and tourism.
Anxious to win over members of Renzi's party, Conte shot only a few arrows at his antagonist, mentioning "harsh, at times haphazard attacks." And Conte did not replicate the withering attack he made when the League's Matteo Salvini ditched the premier's first coalition in the summer of 2019.
Conte and his two main coalition partners, the Five Star Movement and the center-left Democratic Party, have ruled out working with Renzi after what they see as his betrayal. But behind the scenes, officials have been courting Renzi's lawmakers, especially in the Senate where his party has 18 seats.
Why snap elections are unlikely, whatever the confidence vote outcome:
Opinion polls show the opposition center-right in the lead, with parties in the current coalition, particularly senior member The Five Star Movement, likely to lose heavily.
The next national vote will elect a smaller parliament, after a downsizing cut the number of senators to 200 from 315 and deputies to 400 from 630. Many lawmakers will lose their seats.
The parliament will choose Italy's next president in early 2022. Many lawmakers will likely want to stay on, to have a say in that choice.
EU recovery funds will give lawmakers an unprecedented opportunity to shape investment plans for the next decade.
The government impasse "is not good news for the country, so far we've been getting by filling in the cracks, but this is affecting the public budget and we're reaching a point where questions from the rest of Europe are multiplying," said Stefano Micossi, general manager of Italy's Assonime association of joint-stock companies. "This is not the time to vote or to change government."
The premier on Monday also sought to highlight the disconnect between politicians and Italians who are angry over the tensions coming out during the pandemic. "This way we risk, all of us, losing contact with reality. Was there a real need to start a political crisis in this phase? No."