Silvio Berlusconi Is Now Running for European Parliament
(Bloomberg) -- Silvio Berlusconi, Italy's comeback king, has chosen the European Parliament for his latest attempt to return center-stage.
"At my lovely age, I've decided out of a sense of responsibility to head for Europe where there is a lack of deep thinking about the world," Berlusconi, 82, said in Quartu in southern Sardinia, according to newswire Ansa.
For the former premier who dominated Italian politics for two decades, a stint in the European Union's legislative body would appear to be a political path back to power at home. He will run for a seat in the May 23-26 European elections, according to a spokeswoman for Berlusconi, who is campaigning in Sardinia on Thursday ahead of a local election.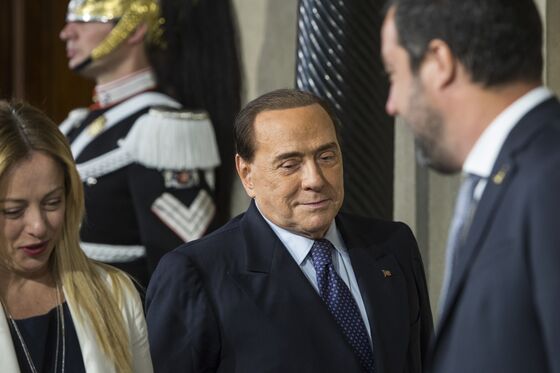 From there, Berlusconi decided to land a couple of punches making it clear he still coveted power. He hit out at the anti-establishment Five Star Movement which is in government with the anti-migration League.
"We need to change this government, which includes Five Star that is led by people who have no experience and no competence," Ansa cited him as saying. "They are like the gentlemen of the communist left of 1994, and in addition they have this big problem."
Berlusconi, who leads the center-right Forza Italia party and first became premier in 1994, has been without a parliamentary seat since the Rome Senate invalidated his 2013 election because of his fraud conviction in a Milan court the previous year.
Winning a seat in the European Parliament could well prove a boost to Berlusconi's efforts to persuade Deputy Premier Matteo Salvini to drop his coalition with Five Star, and instead return to the embrace of the center-right.
Forza Italia and Salvini's rightist League have ruled Italy together in the past, and are allies at local level across the country.
But Salvini would need more than Berlusconi's group to win a majority in the Rome parliament, probably involving a broader alliance also with the small far-right Brothers of Italy party and a possible breakaway faction from the Five Star party of fellow Deputy Premier Luigi Di Maio.