Italian Coalition Talks Stumble, Raising Risk of Early Elections
(Bloomberg) -- Italy's long-time rivals, the Five Star Movement and the Democratic Party, blamed each other as talks to form a government risked collapsing and throwing the country back on the road to early elections.
The bitter recriminations traded by the two parties suggest that even if an agreement is reached, Italy's future government will be hobbled by the constant skirmishes that marred the previous Five Star-League administration. Italian bonds pared gains on the news that talks were struggling after yields earlier touched their lowest level since September 2016.
Italian Bonds Pare Gains as Coalition Talks Falter on Key Jobs
Negotiations, which ran into the early hours on Tuesday morning, stalled on who will hold key cabinet positions. Five Star said it won't resume negotiations unless the current prime minister, Giuseppe Conte, is formally accepted as the head of the incoming government.
The Democrats countered that the problem is Luigi Di Maio's "personal ambitions." He is seeking the posts of deputy premier and interior minister, mirroring the role currently held by League leader Matteo Salvini, according to Democrat officials. Five Star denied Di Maio wants to be interior minister.
The noise has whiplashed markets and casts a shadow over President Sergio Mattarella's talks with parties which are due to resume Tuesday afternoon.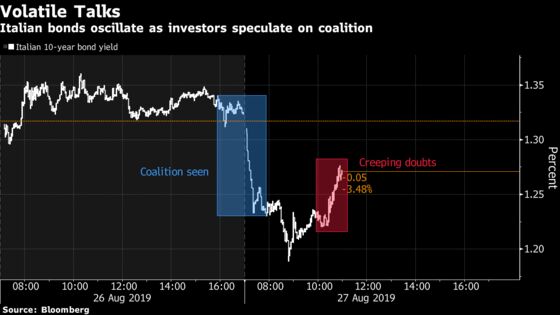 Mattarella wants a definitive answer on success or failure by the time he meets Five Star and Democratic leaders Wednesday afternoon. He will then decide to appoint a new premier if there is a viable majority in parliament or, failing that, to dissolve parliament, setting up elections that could come as early as November.
A former constitutional court judge, Mattarella has demanded that any proposed coalition must have a solid parliamentary majority and a policy agenda lasting until the end of the current legislature in 2023.
Despite the public recrimination, officials from both parties, who declined to be named, insisted talks were still underway and that the negotiation would be arduous and lengthy.
Initial progress in talks had fueled optimism that the two groups could reach a deal that would avert early general elections. But after a meeting between the unlikely partners dragged into the early hours Tuesday, Five Star said in a morning statement that the encounter "arrived at nothing."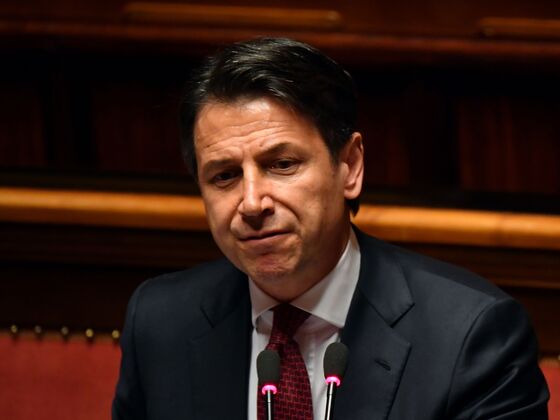 Talks were supposed to restart at 11 a.m. in Rome but have now been put on hold. The Democrats' leadership will meet Tuesday at 4 p.m. in Rome to chart the way forward.
In an apparently coordinated campaign, a host of PD lawmakers spoke out against Di Maio's ambitions, insisting the PD was putting policies first, not jobs.
"Let's all take a step back," Andrea Marcucci, who heads PD senators, posted in a tweet. "Di Maio shouldn't take such a heavy responsibility. His personal ambitions risk bringing about the collapse of an accord to give the country a new government."
In contrast, Five Star lawmakers were silent. A Five Star official denied that Di Maio was seeking the interior ministry job, but did not comment on the post of deputy premier.
Benefiting the most from the collapse of negotiations would be Salvini. He triggered the government crisis banking on swift elections that would see him as the clear winner, but the unexpected rapprochement of the Five Star and the Democrats stopped his plans and hurt his ratings.
A Tecne poll published by TGCom showed the League at 31.3%, from about 38% earlier in the month. Five Star would currently get 20.8%, up from 17.5%, and the Democrats 24.6%, compared with 22.4%. Still, autumn elections would see Salvini as the favorite and he is already firing up his base, saying the two parties are looking to form a new government just to avoid facing fresh elections.