Italy Premier Says Rail Dispute Won't Destroy the Government
(Bloomberg) -- Italian Prime Minister Giuseppe Conte denied that his government could fall over a high-speed rail project that's stirred tensions between the populist coalition's two parties, the League and the Five Star Movement.
"The future of the government isn't at stake, we'll take the best decision for citizens," Conte said Tuesday in Rome. The premier spoke after a meeting with ministers including Five Star Transportation Minister Danilo Toninelli, who has led his party's opposition to the long-planned construction of a $10 billion rail link between Italy and France.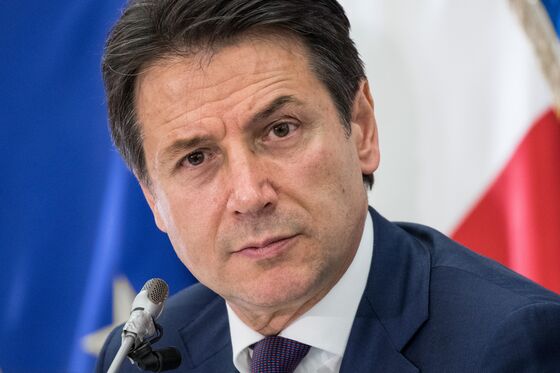 Conte pledged a decision by Friday on the so-called TAV project, which calls for digging a tunnel through the Alps to connect the two countries. Italian media had reported Tuesday that the meeting would conclude with a deal on the project. France's government supports the plan, as does Matteo Salvini's League.
The coalition partners have been at odds for weeks over the project, which Five Star has opposed on environmental grounds since long before it went into government in June. Salvini has visited the building site and promised that the TAV, seen as a boon to businesses in the north, will go ahead in some form.
Earlier Tuesday, Five Star lawmaker Stefano Buffagni warned that his party is in no mood to give ground in order to resolve the dispute.
"I'm not concerned about finding a compromise," Buffagni, who serves as a cabinet undersecretary, said in comments broadcast on RAI television. "If we need to go home because we don't want to throw away money on old projects, I don't see the problem."
Conte, who serves as a counterweight between the two populists parties, said Tuesday that their conflicting views will only weigh marginally on the final decision. The government ruling will be based on a cost-benefit analysis and will guarantee the country's best interests, the prime minister said.