Italy Posts Fewest New Coronavirus Cases in Over Two Months
Italy registered the lowest number of new coronavirus cases in over two months on Monday, as Prime Minister Giuseppe Conte struggles to finalize a 55 billion-euro ($59 billion) stimulus package to rescue an economy stricken by a lockdown.
Conte is expected to hold a cabinet meeting as soon as late Monday to approve measures to boost liquidity for companies and introduce an emergency income for people in the underground economy. Coalition tensions have delayed the approval. Industrial production fell almost 30% in March, national statistics bureau Istat said Monday.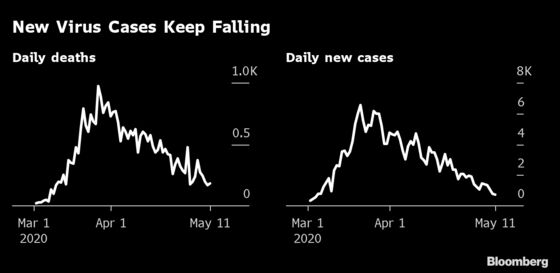 Civil protection authorities reported 744 cases for the 24-hour period -- the fewest since March 4 -- compared with 802 a day earlier
Confirmed cases now total 219,814
Daily fatalities rose to 179 from 165 on Sunday, with a total of 30,739 reported since the start of the pandemic in late February
The number of patients in intensive care fell to 999, marking the first time in two months it's fallen below 1,000