Italy Populists Stand Firm on Budget, Presenting EU Dilemma
(Bloomberg) -- Italy's populists are calling the bluff of European Union enforcers.
The unlikely alliance of deputy premiers Luigi Di Maio and Matteo Salvini has stuck to the government's 2.4 percent budget deficit and 1.5 percent growth forecast targets for next year. The move bulldozes aside attempts by Finance Minister Giovanni Tria to placate the European Commission, which had demanded changes to ease concerns about excessive spending and overly optimistic growth estimates.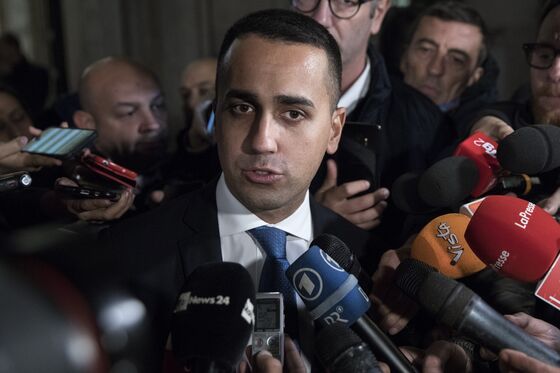 "We won't change" the budget targets, Di Maio told reporters after a cabinet meeting late Tuesday night to finalize a letter of reply to the commission. "We believe that this is the budget the country needs to start up again."
The commission received Italy's response to a demand for submission of a revised 2019 budget and posted the letter from Tria, dated Tuesday, on its website.
"The fiscal expansion decided on by the government is limited to what is strictly necessary to counter the slowdown of the economic cycle," Tria wrote.
The benchmark FTSE MIB stock index sank as much as 1.8 percent, the most in almost three weeks, while the yield on the Italian 10-year bond rose to 3.56 percent, a November high. The yield spread between Italian 10-year bonds and similarly dated German bunds touched 317 basis points, the widest this month.
European commissioners, who rejected a first draft of the budget last month, now have to decide whether to kick start a long and complex process that could lead to several billion euros in fines for Italy. But coming down hard on the populists could boost Di Maio's anti-establishment Five Star Movement and Salvini's anti-migration League, who have been quick to exploit anti-EU sentiment in the past.
The commission is also in a weakened position with a change of leadership coming up after European Parliament elections due next May. That's a vote Salvini says he hopes Europe's populist forces will win in order to change Europe from the inside.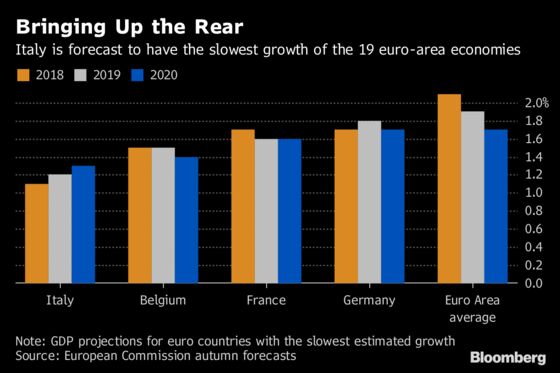 For the ruling coalition, the priority is to start delivering on campaign promises to boost benefit spending, cut taxes and lower the retirement age. The government's letter confirms all key measures and features plans to sell real estate worth 1 percent of GDP. It also includes automatic spending safeguards to ensure the 2.4 deficit target is not breached, officials said.
Salvini, a compulsive user of social media, appears to relish the battle ahead. While in the premier's official residence to discuss the budget, he provocatively posted a picture of himself on Twitter beaming as he holds up a bottle of red wine with the words: "You uncork a bottle of Nebbiolo and the evening takes on a different flavor. How's your evening?"
There is little appetite for such merriment among commissioners, who are under pressure from EU countries to demonstrate that they can actually enforce budget discipline.
The next clue to Italy's fate is likely to be on Nov. 21 if the commission brings forward an assessment of the country's finances that would normally come out in the Spring. A report showing Italy is in breach of the EU's debt rules would be another step down the path toward potential financial penalties.
In a procedure for excessive deficit, EU governments get several opportunities to weigh in and Italy could be given as much as six months more to comply once the process starts. The government would risk an initial fine of 0.2 percent of Italy's annual GDP of 1.7 trillion euros ($1.9 trillion), rising to 0.7 percent if Rome still doesn't fall into line. The EU has never fined a country for budget violations.
Playing on anti-EU sentiment helped the populists win March general elections. The League's Salvini, who is more virulent than Five Star's Di Maio in denouncing Brussels, has since the vote overtaken his coalition ally in opinion polls. The League was credited with 31.7 percent support in an SWG survey, compared to 27.4 percent for Five Star. The League won 17.4 percent of votes in the March elections, while Five Star got 32.7 percent.