Italy's Populist Government May Be Hurting GDP More Than It's Helping
(Bloomberg) -- Italy's populist government's policies are not helping an already sputtering economy that saw gross domestic product contract in the third quarter for the first time since 2014, analysts say.
"The new government is not helping but it's a combination of factors," said Marc Ostwald, analyst at ADM Investor Services. "The underlying structural weakness in productivity continues to be the biggest headwind and, as many have observed, the proposed changes via the budget do not address these."
Italy's statistics office said Friday that the country's economy contracted 0.1 percent in the third quarter on lower domestic demand and a decline in investments. That's the first time the economy ha shrunk since the second quarter of 2014 and may complicate the populist government's growth and budget plans.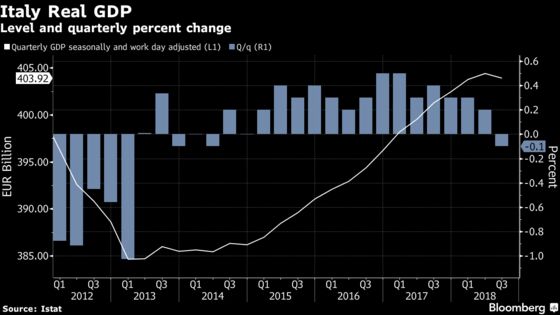 The "marked weakness in financial services" is to blame on the coalition led by Deputy Premier Matteo Salvini's anti-migrant League and Deputy Premier Luigi Di Maio's Five Star Movement, Ostwald said. The country's manufacturing weakness, however, "mirrors what has been seen in Germany and France, and reflects trade tension headwinds and auto sector issues."
The government is looking for growth of 1.2 percent this year and 1.5 percent next, which would allow it to pay for costly election promises and bring the 2019 budget deficit to 2.4 percent, a level already rejected as too high by the European Union. Those targets have become very hard to reach. To achieve this year's growth goal, the economy would need to expand 1.2 percent in the current quarter, Bloomberg calculations show.
"The government is crucial for next year's perspective, when the drop in confidence will become clear," said Vincenzo Longo, an analyst at IG Markets in Milan. "Real estate, banks and the financial sector are most at risk from a decrease in confidence. There is already an impact in the demand for loans, after the increase in the bond yield spread."