Italy Needs to Diverge From EU Fiscal Parameters, Savona Says
(Bloomberg) -- Italy needs to move away from European Union fiscal parameters agreed to by previous governments to guarantee economic and political stability, European Affairs Minister Paolo Savona wrote in a letter to Il Messaggero.
"The proposal would reasonably allow us to return in three years to the path of the readjustment of the structural budget deficit and the reduction of the public debt to gross domestic product," Savona said.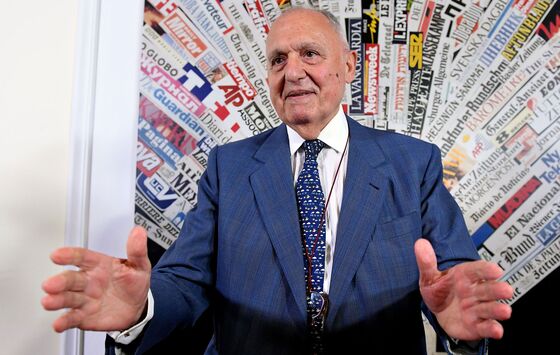 An essential step in this strategy must be the revival of public and private investments, he wrote. "This would strengthen the confidence of the markets on the solvency of our public debt, already solid because of the existence of considerable financial wealth available to Italians," Savona continued in the letter published Saturday.
Savona also reiterated that Italy needs to be part of a single market at the European level and that requires a single currency but that the current "institutional architecture on which they are based doesn't meet the objectives we had set ourselves with the Maastricht Treaty and, therefore, must be corrected."
The Italian government, which has been in office since June 1, has been struggling to balance its populist program with the reality of limited financial resources. Italy has suffered from years of near-stagnation and the European Commission says it expects the country to have the slowest growth rate in the 19-nation euro region this year and next.