Italy May Risk Recession If Faced With Modest Shocks, IMF Says
(Bloomberg) -- Italy may risk a recession if faced with even modest negative shocks that force it into significant budget adjustments, the International Monetary Fund said.
With a huge public debt load the "materialization of even modest adverse shocks, such as slowing growth or rising spreads, would increase debt, raising the risk that Italy could be forced into a large fiscal consolidation when the economy is weakening," the IMF said.
"This could transform a slowdown into a recession," the IMF continued.
The IMF joins the European Union in warning of risks ahead for the populist program as the economy slows. Italy is due to resubmit its budget to the EU by midnight Tuesday, amid signs it won't change the expansive plan.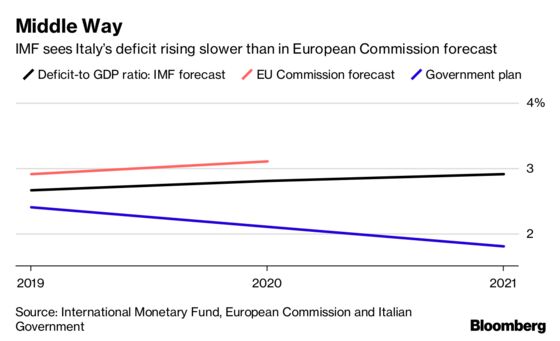 In its regular annual review of the nation's economy, the Washington-based institution also said Tuesday:
"The planned stimulus carries substantial downside risks as it would leave Italy very vulnerable."
It expects annual growth in the euro region's third-biggest economy "around 1 percent in 2018-20, declining thereafter."
Sees the deficit for 2019 at almost 2.7 percent of GDP, rising to about 2.8 percent-2.9 percent in the following two years, unless corrective measures are implemented. The EU has rejected Italy's plans for a 2.4 percent deficit in 2019.
"We project public debt to remain at around 130 percent of GDP over the next 3 years," the IMF said. "Beyond that, additional fiscal adjustment will be needed just to stabilize debt, under our projections of rising interest rates during monetary policy normalization and increasing pension spending."
The IMF welcomed the populists' emphasis on growth and social inclusion. Still, the impact of the stimulus included in the 2019 budget law, including a new income-support tool, is considered "uncertain over the next two years and likely negative over the medium term, if elevated spreads were to persist," the fund added.
The spread, or yield difference between Italian 10-year bonds and similarly dated German bunds, is hovering around 300 basis points. That is 70 basis points higher than the closing on June 1, the day the government took office.
Italy should keep pursuing the repair of its banks' balance sheets, the IMF said, adding: "Although tail risks to the banking system had been reduced by measures to improve balance sheets and tackling the large problem banks last year, vulnerabilities are re-emerging with the recent rise in sovereign yields."