Italy May Give Ground on Deficit, Premier Takes Negotiator Role
(Bloomberg) -- Italy's two powerful deputy premiers, Matteo Salvini and Luigi Di Maio, are ready to back down on their hard-line deficit target demands, newspaper Il Messaggero reported, while Prime Minister Giuseppe Conte has taken over as budget negotiator with the European Union.
"Conte is convincing Salvini and Di Maio of a deficit of 1.9 percent to 2 percent, while negotiations are underway for wider margins on investments," Messaggero reported, without saying where it obtained the information. Both deputies had staunchly insisted that the 2019 deficit target had to remain at the originally planned 2.4 percent of gross domestic product.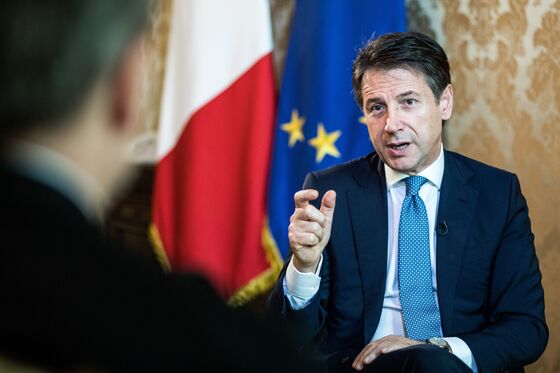 Two newspapers, la Repubblica and La Stampa, reported that Conte has taken over as the chief negotiator with the European Union, which has blocked the original budget plan and threatened the possibility of sanctions. The move may sideline Finance Minister Giovanni Tria, who had been the key figure in the dialog with the European Commission.
The deputy premiers could accept a lower deficit target while continuing to argue that there is adequate funding for their headline programs, pension reform and a so-called citizens income for the needy, La Stampa said.
Sky TG24 television reported that Conte would be meeting with Salvini and Di Maio later in the morning, with no mention of Tria.
Finance ministers from the euro area are meeting in Brussels on Monday, with the Italian budget stalemate one of the key topics.