Italy May Force the EU Into an Unprecedented Budget Rebuke
(Bloomberg) -- The European Commission will likely decide Tuesday on whether to formally demand a member state to take back, revise and resubmit its budget, a step it has never taken before.
Vice President Valdis Dombrovskis and economic affairs chief Pierre Moscovici have already stated that Italy's budget is in serious breach of European Union rules and asked the populist government to change tack. Italy, so far, has refused.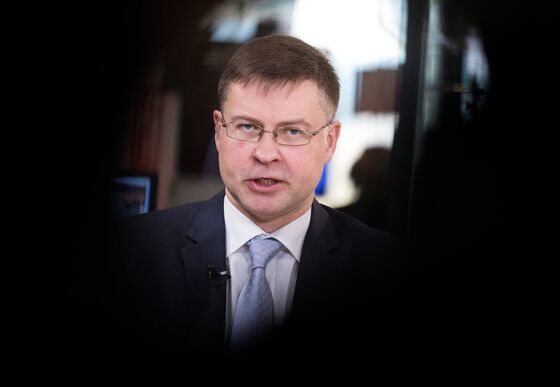 On the face of it, there's every reason to expect the commission to deliver a so-called negative opinion -- essentially a rejection of Italy's budget -- at their meeting in Strasbourg. The country's spending targets far exceeded EU limits and it has ignored repeated warnings over the size of its deficit.
"The commission really has no choice but to reject Italy's budget," said Mujtaba Rahman, a political analyst at Eurasia Group in London. "Both the substance of the government's proposals and the way they are being communicated are a big headache."
While any actual sanctions are still improbable and wouldn't be levied for months, European officials are wary of handing ammunition to the euroskeptic government that already waged one successful election campaign by blaming the EU for many of the country's ills. The commission, the EU's Brussels-based executive, will announce the result of its deliberations during the afternoon.
Italian bonds fell for the fourth time in five sessions on Tuesday, with the 10-year spread between Italian and German yields increasing 6 basis points to 310 basis points at 9:10 a.m. in Rome.
If the commission follows through with its threat, Italy will have three weeks to revise its spending plans and resubmit them to Brussels. While the commission has no real powers over national budgets, governments have in the past sought to avoid an official reprimand because of the stigma and the potential market implications.
The Italian bond spread touched a five-year high of 341 basis points during trading on Friday and Credit Suisse AG said this month that Italy's banking system would face unsustainable pressure if it rose above 400 basis points.
The country's lenders are already sitting on 260 billion euros ($300 billion) of non-performing loans, the biggest in the EU, from the last financial crisis and over the weekend Cabinet Undersecretary Giancarlo Giorgetti said that the government can't ignore the risk to the financial system.
In the case where the commission finds that a country persistently breaks deficit rules, it could eventually open a so-called excessive deficit procedure. Under that process, a country could be fined up to 0.2 percent of output.
But that too would be politically awkward, with Italian Deputy Premier Matteo Salvini looking to make EU budget constraints a key issue as he seeks to rally a broad alliance of nationalists into European Parliamentary elections at the end of May.
Still, there have been hints in the past few days that Italy may be open to some form of face-saving compromise.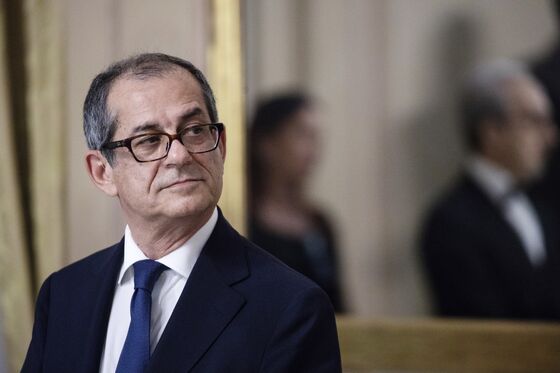 In a letter to the commission sent yesterday, the country's finance chief Giovanni Tria promised the budget deficit won't widen further than currently planned and called for dialogue with the EU to address their differences. Meanwhile, Prime Minister Conte signaled that Italy may not implement some of its most controversial spending plans until later next year, which could potentially lead to a narrower deficit.
Under EU rules, no country should have a budget deficit larger than 3 percent of gross domestic product or debt above 60 percent of output and those that are outside of those limits must set annual targets to show they're moving in the right direction.
While Italy's deficit is well within the 3 percent limit, the commission has demanded smaller gaps for the country to bring down its debt load, which at more than 130 percent of GDP is second only to Greece within Europe.
Crucially, the so-called structural deficit, a key measure for the commission, which strips out effects of the economic cycle and one-time spending items, is also way off the mark. Italy projects this will deteriorate by 0.8 percentage points while the Commission has demanded an improvement of 0.6 percentage points.