Italy Sees Fewer Deaths as Conte Weighs Further Lockdown Easing
Italy saw the number of new deaths from coronavirus decline as Prime Minister Giuseppe Conte fights off criticism of his administration and considers a further easing of lockdown measures.
Figures from civil protection authorities showed there were 1,965 new cases for the 24-hour period, compared with 1,872 a day earlier. There were 269 deaths from the virus, compared with 285 on Thursday, bringing the total number of fatalities to 28,236. Confirmed cases now total 207,428.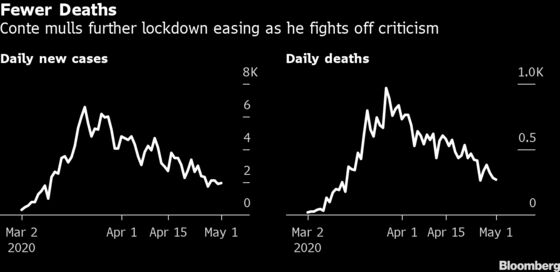 Conte took to Facebook publicly apologizing to Italians for delays to their financial aid and said businesses in some regions may be able to open earlier than forecast if rules are followed and the contagion curve declines. He has come under fire from opposition and business leaders for keeping everything from big industry to small shops shut for longer than necessary.
Italy will start to gradually ease its two-month lockdown on May 4. The new rules call for construction and manufacturing to resume next week, while retailers and museums will reopen on May 18 and bars and restaurants in June. Schools will remain closed until September.
Conte told parliament on Thursday that he knows the government's decisions are controversial but a full reopening would significantly boost the number of new cases and would be too risky.