Italy First-Half Deficit Fell This Year in Government Boost
(Bloomberg) -- Italy's first-half budget deficit narrowed this year, in a positive sign for the country's new government.
The gap contracted to 1.9 percent of gross domestic product in the six months through June from 3 percent in the first half of 2017, national statistics agency Istat said Wednesday in Rome. Istat noted that the 2017 deficit reflected the costs for rescuing two banks in the Veneto region, amounting to 1.1 percent of second-quarter GDP last year.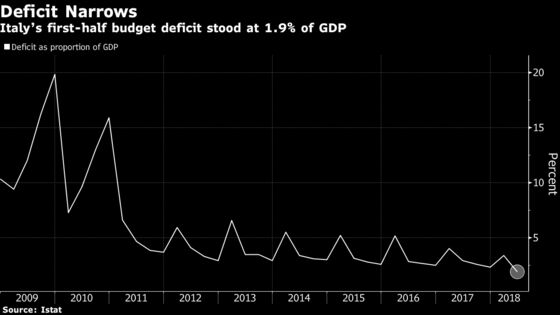 The gap tends to narrow as the year progress. Italy's government in April forecast a 1.6 percent deficit for all of 2018, narrower than the 2.4 percent last year.
Finance Minister Giovanni Tria said in August he expects 2018 growth of 1.2 percent, down from the 1.6 percent registered last year.
Italy's deficit plans have become a major focus of attention. The populist coalition may be presenting its full spending plan 2019 to Parliament later Wednesday.
That plan calls for a wider-than-expected deficit-to-GDP ratio of 2.4 percent for 2019, which has rattled financial markets.