Italy Faces Its Navarro-Mnuchin Moment
(Bloomberg Opinion) -- The Five Star Movement and the League have put forward Giuseppe Conte as the next prime minister of Italy. The choice of a little-known academic for the country's top job will naturally raise eyebrows, but shouldn't be investors' chief concern. The identity of the next finance minister will be far more important for the stability of Italy's economy — and Europe's.
That's not to say that the Conte decision, if ratified, is without interest — not least for its delicious irony. For years, Italy's anti-establishment parties have railed against unelected technocrats, including Mario Monti, an economist and former EU commissioner who led Italy at the height of the sovereign debt crisis. Now they have their shot at power, the League and Five Star plump for an academic who's never run for parliament.
Luigi Di Maio, the Five Star leader, has tried to bolster Conte's political credentials by saying he had been included in his party's prospective government team. But the law professor was just one of several potential ministers who only played a minor role in the campaign. His biggest asset is being a compromise candidate acceptable to both Di Maio and Matteo Salvini, the League's leader.
The two parties would have been better off picking Di Maio as prime minister. The Five Star Movement is by far the largest party in the populist coalition, having won roughly twice as many votes as the League. Di Maio is inexperienced too, but has a popular mandate. He should be the face of the government, rather than hiding behind a man very few people have heard of.
There are legitimate questions about how independent Conte would be from his two political masters, and whether this will impair his ability to get on with the job. That's one reason why president Sergio Mattarella is yet to sign off on his appointment.
Still, Conte is a bit of a sideshow for investors. Indeed, an ineffective Conte-led populist government might be better than a successful one. Italy's bond yields have spiked and the stock market has fallen after the League and Five Star unveiled a program of lavish tax cuts and spending.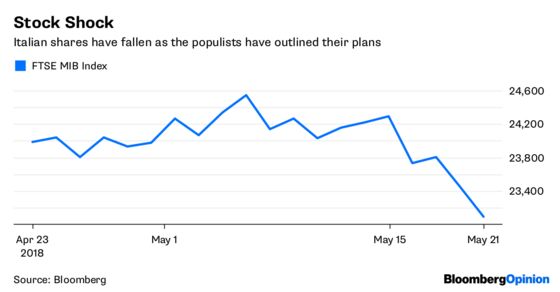 Markets will keep a more anxious eye on the choice of finance minister — who will have the power to do more lasting damage. Italian newspapers say a leading contender is Paolo Savona, an 81-year-old economist and former minister with euroskeptic views. An alternative is Giancarlo Giorgetti, who is Salvini's right-hand man but is known to have doubts about an "Ital-exit."
So the choice of finance minister might help answer the big question at the heart of the putative anti-establishment government: how real is the threat to Italy's euro membership. The League and Five Star have deleted any direct reference to a possible departure in their coalition agreement. But their program will still put Rome on a collision course with Brussels and other European capitals on issues running from public finances to state aid.
Investors are desperate for signs of whether the parties are really committed to the single currency, for when the inevitable clash comes. 
This standoff between the "pragmatists" and "idealists" has been at the heart of other populist administrations, or those wrestling with popular mandates from referendums. In the U.S, Treasury secretary Steven Mnuchin is battling with White House trade adviser Peter Navarro to avoid an outright confrontation with China. In Greece, finance minister Yanis Varoufakis was replaced when it became clear that his ideas would have pushed the country out of the euro. In the U.K., finance minister Philip Hammond and foreign minister Boris Johnson disagree over whether Brexit Britain should stay close to the EU. 
The Five Star Movement and the League still need to decide where they stand. Italy's membership of the euro is of far greater consequence than a new prime minister's credentials.