Italians Look Beyond Coalition Bickering, Grow More Confident
(Bloomberg) -- Italian manufacturing and household confidence rose this month while the populist government leaders struggled over next year's spending plans.
The ruling coalition is scheduled to present its budget targets for 2019 later Thursday, with financial markets closely watching for the agreed-upon budget deficit.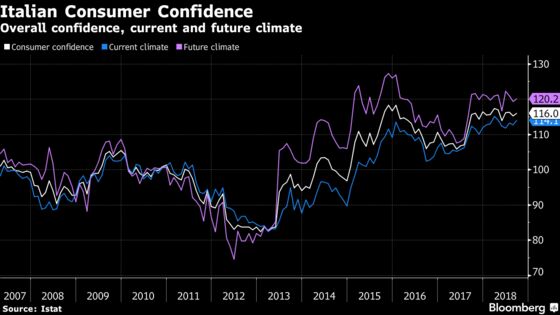 Consumer confidence increased to 116.0 in September from a revised 115.3 the month before, statistics bureau Istat said in Rome. That was above the median estimate of 115.0 in a Bloomberg survey of 12 analysts. The business confidence gauge increased 105.7 from a revised 105.0 last month.
Istat's confidence survey was conducted in the first half of this month.
September business and consumer confidence data for the full 19-nation euro zone are scheduled to be released at 11 a.m. in Luxembourg.
The Italian government, which has been in office since June 1, has been struggling to balance its populist demands for tax cuts and income support for the poor against the reality of limited financial resources. Finance Minister Giovanni Tria has reportedly been trying to hold the 2019 deficit to 1.6 percent of gross domestic product.
Tria may settle on a deficit target between 1.9 percent and 2 percent of GDP for next year, newspaper il Messaggero reported Wednesday in one of several news media reports in the last few days speculating on the final number.
Thursday's budget meeting will take place as scheduled, news agency Ansa quoted Five Star Movement Luigi Di Maio as saying, refuting newspaper reports the session might be delayed.
Italy has suffered from years of near-stagnation and the European Commission says it expects the country to have the slowest growth rate in the 19-nation euro region this year and next. Tria said last month he expects 2018 growth of 1.2 percent, down from the 1.6 percent registered last year.