Conte Signals Italy About to Yield on Budget, EU May Want More
(Bloomberg) -- Italian Prime Minister Giuseppe Conte indicated the populist government is about to back down in a budget standoff with the European Commission, saying he will soon make an offer to Brussels.
Conte has long been pushing his deputies Matteo Salvini and Luigi Di Maio to take a more conciliatory stand in talks with the commission, which have focused on a 2.4 percent deficit target for next year. The premier told newspaper Avvenire he has found room for a possible compromise.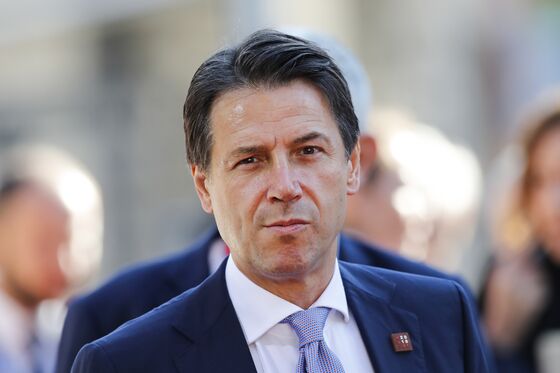 "I'm preparing a proposal of mine which the European Union cannot not take into consideration. It will arrive within hours," Conte said. He added he had received some initial projections "on the economic impact" of welfare benefits and lowering the retirement age.
"This can give me a margin for maneuver to spend and use in the negotiation," Conte said. Asked about reducing the deficit target, Conte replied "if we recover funds, it could reasonably happen. But at this time I won't give any number. Because you need confidentiality for the negotiation to succeed."
Conte did not detail how the government would reduce the deficit, and insisted his proposal would not jeopardize the interests of Italians or planned reforms.
Conte has emerged as the key intermediary between the European Union and the two parties that run the Italian government. He has convinced Salvini of the anti-migration League and Di Maio of the anti-establishment Five Star Movement of the need to avoid EU sanctions and agree to move to a 2 percent target, Corriere della Sera reported, though the two leaders haven't given the "green light" to go any lower.
The EU won't be satisfied with the 2 percent level, however, setting the stage for further conflict, Il Messaggero reported. Cuts of 12 billion euros ($13.6 billion) could be requested to avoid sanctions, La Stampa reported.
Salvini said on a visit to Brussels late Monday the government would stick to election pledges. "The basics of the budget won't change: the pension overhaul, the reforms of the work conditions," Salvini said. "I don't think we're aiming toward a collision; it's not in our interest, it's not in Europe's interest."
The commission has rejected the 2019 budget plan. An EU disciplinary procedure against Italy may be opened as early as next month.