Italian City Voting Could Confirm Surge for Salvini's League
(Bloomberg) -- Italians went back to the polls Sunday for a second round of municipal voting that could confirm a surge in support for the anti-migrant League.
Almost 3 million people were eligible to vote in 75 municipalities, including the medieval cities of Siena and Pisa, in another test of the country's sentiment after the March 4 general election. Results are expected early Monday morning.
Matteo Salvini's right-wing League advanced in the first round of local and administrative voting on June 10, when support for the party overshadowed its government coalition partner Five Star Movement. Salvini, the country's interior minister, has become the most visible and outspoken member of the new coalition, stopping migrant ships from reaching Italy and taunting French President Emmanuel Macron.
The League-led center-right alliance and Luigi Di Maio's anti-establishment Five Star faced each other in the runoff in some cities including Terni, while the center-right coalition and left-wing Democratic Party competed in most of the balloting.
"The center-right is favored, in particular if we compare the results with what happened five years ago, when the Democratic Party dominated the vote," said Lorenzo Pregliasco, a political consultant at Agenzia Quorum.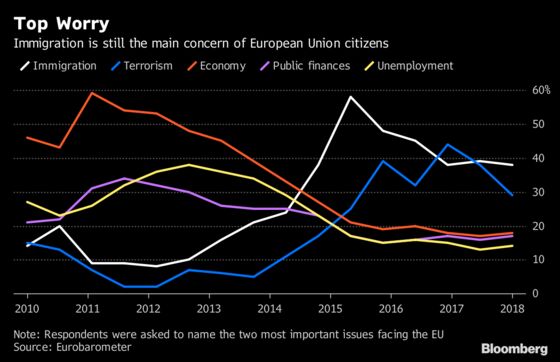 Salvini's aggressive anti-immigration stance has helped him win support among voters.
Recent polls including a survey by SWG earlier this month now show the two coalition parties neck and neck with about 30 percent of support each nationwide. Salvini's League picked up 17.4 percent of the vote in March, while Five Star had almost 33 percent.
Salvini is a deputy prime minister in addition to his positions as interior minister and party leader. He has played brinkmanship with other EU countries in recent weeks by refusing to accept humanitarian ships carrying migrants to Italian ports.
In a spat with France over the issue which escalated Saturday, he called Macron "arrogant" and invited him to "show generosity by opening French ports." European Union leaders meet Sunday in Brussels to discuss the migrant crisis.
A key city to look at to gauge voters' sentiment will be Siena, in Tuscany, a traditional left-wing outpost. The city is home to Banca Monte Paschi di Siena, a lender that became a symbol of Italy's financial crisis. This is where Salvini headed for the last stretch of his campaign.
"I am counting on you," he wrote in a Facebook post Sunday.