Italy Bonds Slip on Worries Over Populists' Cabinet Choices
(Bloomberg) -- Italian bonds reversed gains as investors worried about the populist coalition's candidates to run the euro-area's third-largest economy.
The securities slipped back to take yields near the highest since 2015 after the League party's leader Matteo Salvini confirmed he wants Paolo Savona to be Italy's next economy minister, following earlier speculation over a less euroskeptic candidate. Savona has repeatedly called on the government to plan for a possible euro exit.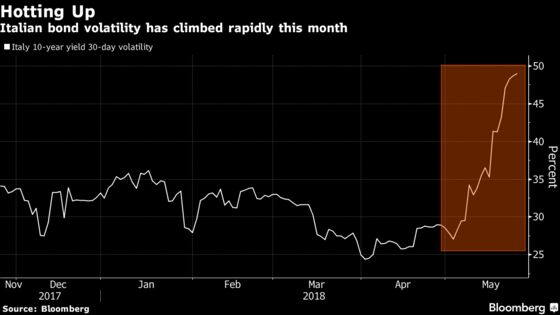 The market has whipsawed over the past week as details emerge of the policy plans of the anti-establishment coalition formed by Five Star Movement and League. Bonds gained earlier in the day after Giuseppe Conte accepted a mandate as premier-designate and struck a "conciliatory" tone, according to Barclays Plc.
"The Savona factor has been driving spreads quite a bit in recent days, but this was also aided by global risk-off," said Christoph Rieger, a strategist at Commerzbank AG. The bank sees Italy's spread over Germany widening out to 200 basis points.
The yield on Italian 10-year bonds rose one basis point to 2.41 percent, after dropping as much as nine basis points. It has climbed over 60 basis points this month, with Morgan Stanley warning of contagion risks if yields break convincing above 2.40 percent. The spread over yields on German bunds widened to 194 basis points.
Finance Professor Luigi Zingales -- seen as more euro-friendly -- is a candidate for the finance minister position, according to the La Stampa newspaper. Still, for some the main driver for the market will be the coalition's ultimate policies rather than people.
"There will be different degrees of euroskepticism among members of government and markets are looking for anything that sticks out," said Jorge Garayo, a strategist at Societe Generale SA in London, who prefers the bonds of Spain and Portugal to Italy. "I remain of the view that before policies are made official it is difficult to position one way or the other on Italy."