Italy a Submerging Market as Borrowing Costs Exceed Indonesia's
(Bloomberg) -- The Italian government's borrowing costs have surged to inauspicious territory.
The result: An Italian note maturing in February 2028 now yields 10 basis points more than a euro-denominated sovereign from Indonesia due four months later.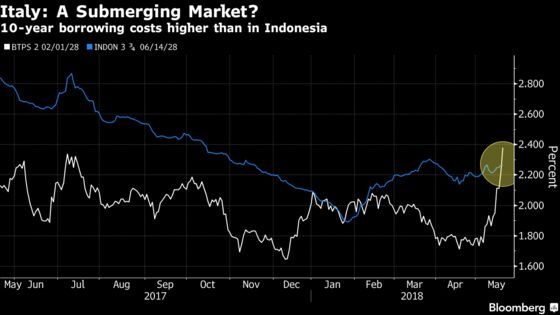 While it's never a good sign for a developed country to be paying more to borrow than an emerging counterpart, the comparison with Indonesia is particularly grim given that the Southeast Asian country has been among the most-battered during the recent market downdraft for developing nations. The benchmark stock index slumped to an 11-month low while the rupiah has tumbled 4 percent against the greenback in 2018 to hit its weakest level in more than two years.
Bulgaria and Hungary also have euro-denominated debt due between 2026 and 2030 that yields less than Italy's. Colombia does as well -- and to add insult to injury, that nation actually managed to qualify for the 2018 FIFA World Cup.
Other countries designated as emerging markets with euro-denominated bonds maturing in this span with borrowing costs lower than Italy's include Chile, Mexico, Latvia, Lithuania, Peru and Poland. S&P Global Ratings judges those countries to be more creditworthy than the Mediterranean nation.