Italy Premier Weighs Tactical Retreat Before Vote This Week
(Bloomberg) -- Italian Prime Minister Giuseppe Conte is sizing up his options ahead of a crucial Senate vote this week, including a resignation offer that would position him as the top candidate to lead a new government.
The 56-year-old Conte is considering offering his resignation to President Sergio Mattarella, who oversees forming new governments, on Monday or Tuesday, according to officials who asked not to be named discussing confidential deliberations.
After resisting pressure to quit following the defection earlier this month of a junior coalition party led by former Premier Matteo Renzi, Conte may conclude that resigning now and coming back to head a "unity government" is his best option, the officials said.
Conte would then seek a new mandate from the head of state to try to form his third government, this time possibly with centrists, unaffiliated lawmakers, Renzi's Italy Alive party or members of it, as well as lawmakers from Silvio Berlusconi's center-right Forza Italia, the officials said.
Since the premier still needs about a dozen extra votes before the Senate ballot on the annual report of his justice minister, most likely Wednesday or Thursday, his resignation gambit would be strategic. He has a much higher chance of being granted a new opportunity to form a government by Mattarella if he resigns before a Senate defeat, according to a senior state official.
Conte's main coalition partners, the Five Star Movement and the center-left Democratic Party, are divided even internally on whether or not to negotiate with Renzi himself, with many believing the former premier cannot be trusted, the officials said.
Italian bonds gained Monday, with the 10-year yield falling 5 basis points to 0.7%. Corriere della Sera and other Italian media reported earlier on the resignation possibility.
Last week, the prime minister survived a confidence vote in the upper chamber, although he was five short of an outright majority. Italy Alive abstained to allow Conte to squeak through, but Renzi has said his senators will vote against Justice Minister Alfonso Bonafede's report.
While some of the premier's allies have raised the prospect of early elections to resolve the impasse, coalition leaders still see this is an unlikely option, according to officials who asked not to be named discussing confidential talks.
"The most likely scenario after Conte's resignation remains in our view the creation of a new government with the return of Italia Viva and perhaps other senators from the center, presumably still led by Conte," Equita analysts wrote in a note on Monday. "We continue to consider the scenario of new elections as the least likely."
Several coalition members are against going to the polls in the near future as they fear that a vote would usher in the center-right opposition led by Matteo Salvini. They have also cited the pandemic, a recession and the need to manage the European Union's recovery package as reasons to avoid an election. Some lawmakers in the center-left Democratic Party are seeking to restart talks with Renzi to avoid an election, la Repubblica reported.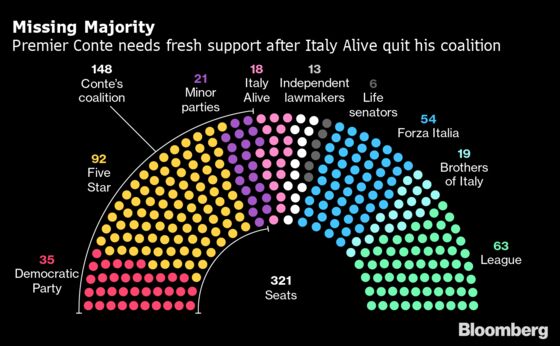 Conte's handling of the pandemic has boosted his standing with Italian voters, though his willingness to use emergency powers has made some allies uncomfortable, especially since he has never been elected. He was brought in as a compromise figure after the 2018 election failed to produce a clear result.
After five consecutive weeks of worrying increases, Italy's rate of infection has slowed over the past seven days, though the country has still suffered almost 500 deaths each day and on Sunday 11,000 new cases were reported.