Italian Premier Checking for Market Rebound on Way to Kremlin
(Bloomberg) -- European Union leaders and bond investors are dragging Italy's populist government over the coals for its defiance of EU spending rules. But at his palatial office in central Rome, Prime Minister Giuseppe Conte is relaxed.
"After several months, this government has about 60 percent support in opinion polls," Conte, 54, said with a smile in an interview with Bloomberg News on Tuesday. "We're the most envied government in Europe."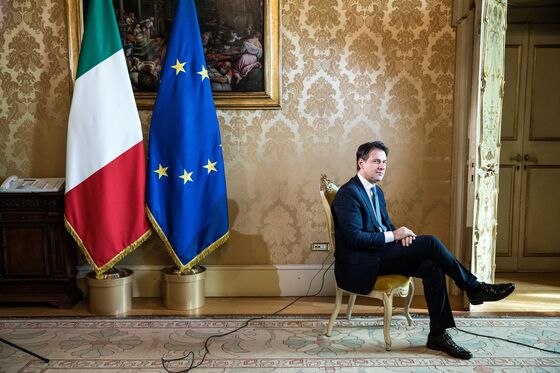 A Florence law professor until June, Conte has had to weather tensions between his two deputies, attacks from the EU and a market rout since entering front line politics less than five months ago. On Tuesday, the European Commission rejected his 2019 budget and demanded changes to bring Italy back in line with the rules -- an unprecedented move for the EU.
Conte was cracking self-deprecatory jokes about what he said was his Brooklyn-accented English in a gilded anteroom of the Palazzo Chigi before flying off to Moscow for talks with Vladimir Putin. He said he'll be keeping a close eye on the 10-year spread between Italian and German bond yields, a barometer of market confidence, but he insisted his government won't change tack on the budget.
"I follow the spread myself, between meetings, also on my mobile phone," he said.
The premier said he isn't spooked by market turbulence and the spread won't cross the key 400 basis-point threshold it last reached in 2012 at the height of the European debt crisis.
"Italy's economic fundamentals are absolutely solid," Conte said. "To the contrary, I believe the spread will narrow."
Indeed, the gap shrank by 8 basis points in early trading Wednesday and was 310 basis points at 9:08 a.m. in Rome. It touched a five-year high of 341 basis points on Friday.
In the Kremlin, Conte may seek to walk back the bolder promises made by his deputy, Matteo Salvini, when he visited Moscow last week. While Salvini, who leads the nationalist League, vowed the "absurdity" of EU sanctions against Russia would be ended within a year, Conte recalled European concerns that Putin is still to deliver on his pledge to help establish a proper ceasefire in Ukraine under the so-called Minsk accords.
"Sanctions are a means, not an end in themselves," he said. "These sanctions are born of the Minsk accords which must be carried out, completed. We want a dialogue with Russia because its isolation is not good for Europe, not good for the world."
He denied press reports that he'd be seeking financial support from Russia.
"When I go and meet foreign leaders, I don't have the habit of going with my hat in my hand," he said.
The budget clash with Brussels and last week's tensions between Salvini and Five Star leader Luigi Di Maio are fueling investors' concerns about more disruption in a country with the highest debt-to-GDP ratio in Europe after Greece.
Conte dismissed speculation that his government could fall in the run-up to next May's European Parliament elections, or soon afterwards.
"The government is cemented together. It is cemented by the government contract," Conte said in reference to the program which Di Maio and Salvini agreed after March elections. The support in opinion polls is "a strong push" for sticking together, he added.
Caricatured in his first days in power as a puppet in the hands of his two deputies, the premier has grown increasingly assertive, insisting at an EU summit in Brussels last week -- at which he raised eyebrows by arriving in a Maserati -- that he would call a cabinet meeting to resolve the tax amnesty dispute, and working to defuse tensions between the two party leaders.
Asked how to define his relationship with the two party leaders, Conte paused.
"The relationship between us is an amalgam which is working out very well," he said. Di Maio and Salvini had "found a balance" by making him premier. "My role is to act as a mediator and to carry out the program."
All the same, Italy remains in the grip of a permanent election campaign as Di Maio and Salvini look to consolidate their positions in the EU elections.
"In Italy politics is never dull," Conte said. "We're vivacious, in the Italian spirit."