Italian Populists Settle Disputes, Prepare to Answer EU Letter
(Bloomberg) -- Italian Deputy Premiers Matteo Salvini and Luigi Di Maio said they reached an accord over a dispute that has strained their five-month-old alliance, and intend to respond to a European Union letter criticizing their budget by better explaining its rationale.
"Finally we end two or three surreal days," with an accord that clears things up, Salvini told reporters in Rome on Saturday after a cabinet meeting. Di Maio said the government is united and will try to explain its reasoning to the EU. He said there is no intention to leave the euro or the EU.
Salvini rushed back to Rome on Saturday for a cabinet meeting after Di Maio, leader of the anti-establishment Five Star Movement, accused Salvini's pro-business party, the League, of secretly sweetening a tax amnesty proposal that he'd only grudgingly agreed to in the first place, sparking rumors of a government crisis.
"The government will keep going despite the rating agencies, European commissioners and some internal misunderstandings," Salvini said earlier in the day at an event in northern Italy, according to Ansa news agency.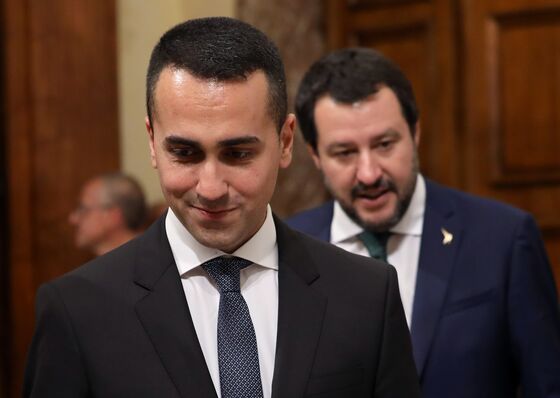 The populists are under fire from all sides, with EU leaders attacking their budget plans at a summit meeting in Brussels this week and bond yields touching a five-year high on Friday. The EU Commission has given Italy until noon on Monday to provide an explanation for the "obvious significant deviation" from the budget rules.
Moody's cut Italy's credit rating late Friday to one level above junk on concerns about the nation's fiscal strength and the stalling of plans for structural reform.
The country's rating has never been this low, not even in 2011 when Silvio Berlusconi's government was forced to step down in the midst of an acute debt crisis that had sent the yield spread between Italian and German 10-year bonds to over 550 basis points. The yield spread is currently at 302 basis points.
Still, analysts said Moody's stable outlook could help spark a rally in Italian bonds on Monday.
"This was the softest possible move and should be a relief for investors now," Ciaran O'Hagan, head of euro area rates strategy at Societe Generale SA, said in a note. "Expectations for Moody's were very downbeat in other forecasts that we saw. Now that uncertainty has been removed. This deserves to be rewarded with a good rally in BTPs."
The Italian businesses community was not as optimistic about unfolding events.
"It's clear that both the letter from the European Commission and the downgrade were bound to happen," Italian business lobby Confindustria chief Vincenzo Boccia said at an event in Capri, according to Ansa. He demanded that the government modify the budget plan, putting more resources into boosting economic growth. If the government "uses resources only to increase the budget deficit and structural debt, clearly the game is lost."
Salvini and Di Maio have both vowed there will be no retreat from their plans to deliver on election promises including a "citizen's income" for the poor, tax cuts and a lower retirement age.
"This budget proposal aims at bringing Italy back on the right European tracks with an expansive policy, not a restrictive one," Di Maio said. "A budget that no longer talks of austerity and sacrifices for citizens." Before going into the cabinet meeting, he insisted that the planned budget deficit of 2.4 percent of gross domestic product would not be reduced.
"We all know the situation is delicate, and we have no interest in creating further tensions," EU Economic Affairs Commissioner Pierre Moscovici told reporters at an event in Rome on Friday, stressing that officials in Brussels are sensitive to the political pressures facing the coalition.
"The ball is in the court of the Italian authorities," he added.
Salvini and Di Maio said Saturday they will face the EU united.
Their quarrel over taxes that forced the League leader to return to Rome began Wednesday when Di Maio said that someone had changed the language in the government's draft decree that initially involved only Italians who had failed to declare a maximum of 100,000-euro ($115,000), a limit that his party had insisted on. The League had pushed for a ceiling of 1 million euros, according to local press reports, and Di Maio was clearly pointing the finger at Salvini's team.
The League does not want a government crisis, Salvini said in an interview in Il Messaggero newspaper on Saturday. "The drama has been going on too long and is wasting everyone's time," the newspaper cited him as saying.
Salvini had been in Northern Italy rustling up support for an election in Trentino-Alto Adige on Sunday which he hopes to use to his advantage if the League performs well.
In the area of Trento, the main town in Trentino-Alto Adige, a center-right coalition that includes the League, Berlusconi's Forza Italia party, and the small far-right Brothers of Italy party, is seen as a favorite to defeat the long-ruling pro-autonomy parties, according to opinion polls.