Italian Populists Head for Hills With Pact Unfinished
(Bloomberg) -- The populist leaders planning to take power in Italy are breaking away from coalition negotiations in Rome to fight an election in the north.
Five Star leader Luigi Di Maio and Matteo Salvini of the anti-immigrant League are campaigning in the mountains of Valle d'Aosta stumping for votes ahead of a regional ballot Sunday. After thrashing out most of a joint policy platform over the past nine days, they may take time out from the campaign trail on Friday to hold a meeting, newspaper La Repubblica said.
The two men are still haggling over elements of their plans for the European Union and deficit spending, as well as the League's flagship pledges of a flat tax and curbs on immigration, according to a Five Star official who declined to be named. There's also the issue of who will be prime minister.
While Five Star was the biggest single party in March's election, the League was part of a center-right alliance that won the most seats overall. Both men claimed the right to lead the next government, and that dispute has dogged their efforts to form a coalition ever since.
Carlo Cottarelli, a former executive director at the International Monetary Fund, and who now heads an observatory of Italy's public finances, said in a Twitter post that the program's expansionary measures would cost between 109 billion euros ($129 billion) and 126 billion euros.
The League is benefiting the most from the negotiations, at least in terms of voter intentions. The League has risen to 25.4 percent from 17.4 percent in the March election, according to an Ipsos poll published by newspaper Corriere della Sera on Friday. Five Star was stable at 32.6 percent.
On Thursday night, Salvini said neither of them will be prime minister.
"Not me and not Di Maio," Salvini told reporters in Aosta, the capital of the Alpine region. "For me it would have been an honor, but the numbers are the numbers and we are looking for a more suitable person to represent this government."
Salvini said he sees next Monday as a "make or break" moment for the talks, which have dragged on since at least May 9. He previously said that a deal would be done Wednesday. And on Monday he suggested he'd pull out of talks unless an agreement was settled within hours.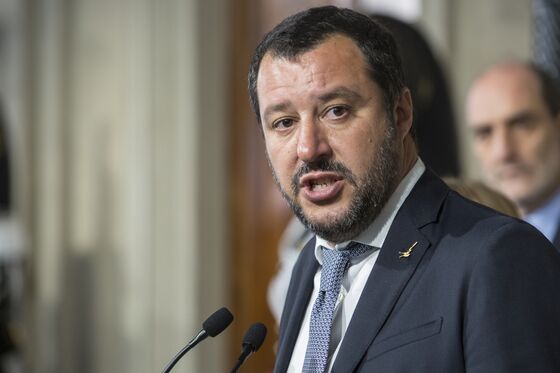 Salvini is due to return to party headquarters in Milan to brief senior officials at 2 p.m. on Friday. Both Five Star and the League plan to hold votes on the program for their supporters during the weekend, Corriere said. Five Star will hold an online vote, while the League will stage its vote in piazzas across the country.
Di Maio is still seeking the premiership for himself, according to another Five Star official. The official said Di Maio and Salvini could alternate in office while also controling the foreign and interior ministries respectively.