Salvini's Surge Renews Turmoil in Italy's Populist Government
(Bloomberg) -- Tension inside the Italian government mounted over the weekend as Italy's League widened its lead in public support over its partner in the populist coalition.
Giancarlo Giorgetti, a League member and key aide to leader Matteo Salvini, warned that the government could be at risk of falling apart if the parties focus only on polling results, according to an interview published Sunday in La Repubblica newspaper. Salvini isn't seeking to capitalize on the League's growing popularity, though, by going for the premier's job, Giorgetti added.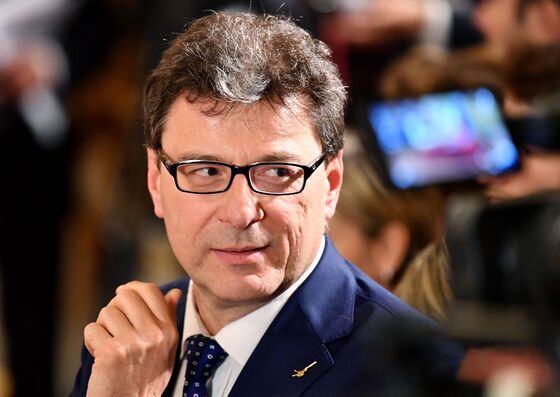 Support for the anti-immigrant League rose to 34.7 percent in the Ipsos poll published in Corriere della Sera on Saturday, almost doubling the share of votes it gained in March general elections. Five Star's backing fell 4 percentage points below its election result, to 28.7 percent in the October poll. Five Star leader Luigi Di Maio complained that some government members were undermining his push to increase benefits.
"I see some risks for citizens if some members of the government aren't supporting what we are doing," Di Maio told Corriere della Sera in an interview Saturday. "We have a government contract that should be respected by both parties."
Coalition efforts to deliver on Di Maio's promise of a "citizen's income" payment for poorer Italians, while also cutting taxes to satisfy the League's backers, have opened a rift with the European Commission and pushed the country's borrowing costs to the highest in four years. The government has until Nov. 13 to submit a revised 2019 budget to the commission after its initial plan was rejected for breaching European Union spending rules.
As the deadline approaches, some officials are floating measures that might help win EU support. Giorgetti, who serves as cabinet undersecretary, reiterated on Sunday that it's "complicated" to implement the citizens' income and that the government could need more time to make it work.
Salvini, who is also interior minister, sought to calm matters, saying the "government is working," according to Corriere. Salvini is worried that "speculators" are "playing" with the spread between Italy's borrowing costs and safer European assets, which has implications for banks' loans, he told the paper. "We will take care of that issue," he added.
Italy faces the risk that funds would be forced to drop the country's assets from their portfolio following their review of VAR, or value at risk, Giorgetti said.
Adding to the sense of conflict, La Repubblica newspaper reported that Finance Minister Giovanni Tria was privately saying that Italy's deficit next year would be lower than the official 2.4 percent estimate because measures including pension reform and the citizens income would take a long time to implement. Tria would like to make his estimates public to calm markets but Five Star "categorically" opposes such a move, the newspaper reported.