Italy's Government Under a Hail of Criticism in EU Parliament
(Bloomberg) -- Italian Prime Minister Giuseppe Conte faced a backlash in the European Parliament for the populist actions of his two deputy premiers.
Members of the European Union assembly used Conte's appearance at a "Future of Europe" debate to warn about the future of Italy under Matteo Salvini and Luigi Di Maio, the two powers in the country's anti-establishment coalition government.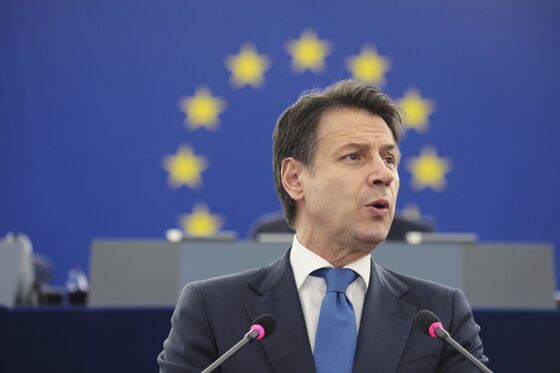 The heated exchange on Tuesday evening in Strasbourg, France, comes in the wake of the French government's withdrawal of its ambassador in Rome and amid persistent anger across the EU at Italy's hardline stance on migrants.
Di Maio offended French President Emmanuel Macron by meeting members of the country's Yellow Vests protest movement, while Salvini has thumbed his nose at EU calls for a more tolerant approach to migrants arriving by sea in Italy from Africa.
"How much longer will you continue to be the puppet on Salvini and Di Maio's strings?" Guy Verhofstadt, Belgian leader of the pro-business Liberals in the 28-nation EU assembly, said to Conte during the debate. "I would ask you to do one thing: to draw inspiration from your more illustrious compatriots."
"I am not a puppet," Conte said. "I am very pleased to work on the change that the Italian people want."
The barbs signal the political stakes in EU legislative elections in May, when Salvini's League party aims to make gains that could help it forge a bigger right-of-center euroskeptic group in the European assembly.
Di Maio's left-of-center Five Star Movement is allied with another euroskeptic faction in the EU Parliament. His meeting with Yellow Vests members was part of EU-election campaigning. To defuse tensions, Macron called Italian President Sergio Mattarella on Tuesday evening.
The phone call confirms that the relationship "certainly cannot be threatened by an isolated incident," Conte said, according to a statement released by his office.
Udo Bullmann, German leader of the EU Parliament's Socialist group, accused Di Maio of picking an unnecessary and counterproductive fight with France.
"People in both countries could end up paying a very high price," Bullmann told Conte. "This is a perfect lose-lose for your country and for Europe."
Bullmann saved his harshest comments for Salvini, saying that as a result of his opposition to migrants, the Italian government is "showing the ugly face of inhumanity" and undermining the country's influence in the EU.
"Mr. Salvini has a scapegoat for everything but no solution for anything," Bullmann said. "This is part of the Italian reality today."