Italian Employers Clash With New Government on Worker Protection
(Bloomberg) -- Italy's main employers' lobby clashed with the government on new rules limiting short-term contracts, possibly triggering a wider conflict on the new administration's populist economic policies.
The decree approved Monday "is the first true act of the new executive and for this reason, it is a very negative signal for the business world," Confindustria said in a statement on Tuesday. "The government is shifting into reverse gear."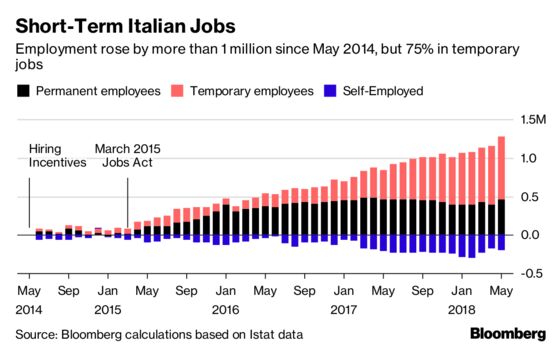 Since the last review of the labor code under then-Premier Matteo Renzi's government in 2014, employed Italians rose by about 1.1 million, Bloomberg calculations show.
Still, almost 75 percent of them were on fixed-term jobs. That prompted the new government to pass rules restricting the use of such contracts with limits to both their duration and maximum times they can be renewed. The new rules also increase financial compensation in case of dismissals.
Moreover, while the employment in the euro region's third-biggest economy is back to levels recorded before the double-dip recession started in 2008, the number of worked hours remains well below the pre-crisis level.
The wide-ranging decree also penalizes some companies that relocate abroad after receiving state aid and limits gambling advertising, with the measures taking effect immediately. It was passed by the coalition of the anti-establishment Five Star Movement and the anti-migrant League, which took office on June 1.
It will have to be converted into law by the parliament within two months. Lawmakers will be able to make changes to the legislation though Prime Minister Giuseppe Conte said he expects them to be loyal to the government program and limit their amendments to the decree.
The end result "will be to have less work" with no reduction in job uncertainty, Confindustria also said.
The "decree does not favor investments in Italy or the quality of employment," Paolo Gentiloni, Conte's predecessor, said in a post on Twitter. "It only introduces obstacles for work and investment."
Labor Minister Luigi Di Maio, the Five Star leader and deputy premier, staunchly defended the new rules.
"This decree protects honest workers, without damaging honest businessmen: those who do not abuse have nothing to fear," Di Maio told reporters on Tuesday. "We will be on the side of entrepreneurs by lowering" the taxation on companies, the minister who's also deputy premier said, citing a flagship electoral promise by the League.