New Coalition Would Seek to Avoid Clash With EU: Italy Update
After two days of frenzied negotiations, coalition talks dragged on between two of Italy's main political groups, the anti-establishment Five Star Movement and the center-left Democratic Party. President Sergio Mattarella is meeting with Italy's parties on Tuesday and Wednesday and will decide after the consultations if a viable alliance exists or if new elections are needed.
Italian bonds rose as coalition talks appeared to gain momentum
Five Star is insisting that Giuseppe Conte remains as prime minister
Democrats say talks could break down over the "personal ambitions" of Luigi Di Maio
PD Lawmakers Signal Talks to Continue (7:57 p.m.)
As PD-Five Star meeting breaks up, PD lawmakers say talks "on program" are set to continue. Five Star's Stefano Patuanelli says talks were held in a constructive atmosphere, without discussion of names for specific positions. Sky TG24 television reports that party leaders Di Maio and Zingaretti may meet again this evening.
Italian Bonds Have Best Day in Almost Two Months (6:34 p.m.)
Italian government bonds had their best day since July 3 as talks progressed between the possible coalition allies Five Star and the Democrats.
The benchmark 10-year yield tumbled 19 basis points to 1.14% -- narrowing the yield premium over German bunds (known as "lo spread" in Italy) to 183 basis points, the least on a closing-market basis since May 2018. The FTSE MIB index of shares climbed 1.5%, with banks among the biggest gainers.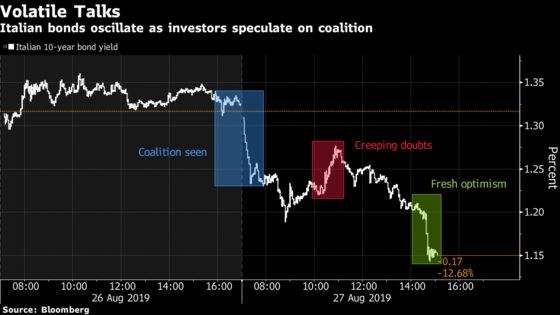 Five Star-PD Coalition to Avoid Clash With EU (5:55 p.m.)
A Five Star-PD government would seek to keep Italy's deficit relative to gross domestic product in the 2020 budget within European Union limits, according to three officials who asked not to be named discussing confidential plans.
A coalition of the two parties would seek to avoid a clash with the EU over the spending plans, the officials said, with a deficit-to-GDP ratio under 3%. The outgoing Five Star-League government has clashed with the European Commission, the bloc's executive arm, over previous spending plans.

Five Star and Democrats to Meet at 6 p.m. (5:35 p.m.)
Senior lawmakers of Five Star and the Democratic Party will meet Tuesday at 6 p.m. at the lower house of parliament, according to a PD spokesman. This is an about-face after the two groups canceled a meeting that had been scheduled for 11 a.m. this morning
The gathering confirms there is new momentum for the two parties' attempts to form a coalition, which would avoid new elections.

Mattarella Meets With Five Star Lawmaker (5:05 p.m.)
President Sergio Mattarella is currently meeting Five Star's Roberto Fico, speaker of the lower house, as part of his two days of consultations.
Fico was floated over the weekend as a potential premier for a Five Star-PD government, but Conte is now the leading contender after Fico called himself out of the running.

Italian Yields Reach Lowest Since September 2016 (4:47 p.m.)
Italian bonds extended gains as coalition talks appeared to pick up momentum, decreasing the risk of snap elections. The benchmark 10-year yield touched 1.13%, the lowest level since September 2016. The spread over that on their German peers, a key gauge of risk in the country, touched 181 basis points, the lowest level in a month.

Democratic Lawmaker See 'Significant' Progress (4:40 p.m.)
Emanuele Fiano, a senior lawmaker in the Democratic Party, said he expects "significant steps forward in the next hours," in comments on La7 television.

President Trump Endorses Conte for Premier (4:25 p.m.)
Donald Trump waded into Italian politics, endorsing Conte to remain prime minister. The American president however misspelled his first name, Giuseppe, on his first take, but corrected it in a subsequent post.
Trump's accolade will have Conte's rival, Deputy Premier Matteo Salvini, fuming. League leader Salvini, who pulled the plug on the coalition earlier this month, has enthusiastically praised Trump repeatedly, pledged a Trump-style "fiscal shock" to boost the economy, and copied him with the "Italy First" slogan.
Trump and Conte last met, for a brief chat, at the Group of Seven summit in Biarritz, France.

Italy's Democrats Want to Limit Di Maio's Influence (4:17 p.m.)
The Democratic Party is ready to accept Conte staying on as premier, but wants to limit the role of Luigi Di Maio of the Five Star Movement in a coalition government, according to a PD official who asked not to be named discussing strategy.
The Democrats consider Conte to be a Five Star figure, and are resisting heavy political roles for Di Maio such as deputy premier or interior minister, said the official. Di Maio is deputy premier, economic development minister, and labor minister in the outgoing government.
If Conte becomes premier, then a PD figure should serve as the only deputy premier, the official said. The PD has shifted a leadership meeting to Wednesday morning so an outcome to the talks could come around then, he added.

Bonds Surge as Coalition Talks Progress (4:11 p.m.)
Italian bonds extended gains, with the 10-year yield touching the lowest level since Sept. 2016, as investors eyed a pact between the two parties. The spread over that on their German peers, a key gauge of risk in the country, touched 182 basis points, the lowest level in a month.