Italy's Bond Investors Rocked by Prospect of Fresh Elections
(Bloomberg) -- Italian political concerns are bubbling to the surface for bond investors with a growing risk of fresh elections in the summer threatening to compound the economic uncertainty wrought by the coronavirus crisis.
The nation's bonds slid Thursday following a report by the country's ANSA newswire that the Democratic Party, part of the ruling coalition, sees a risk of fresh elections in June. Bank of America Corp. says that could widen the country's 10-year yield spread over Germany -- a key gauge of risk -- to 140 basis points, the highest since November.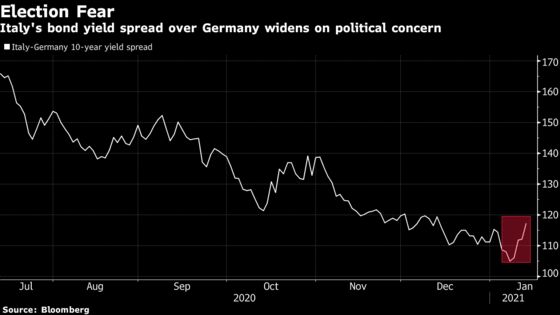 "All government scenarios are on the table," wrote Bank of America strategists led by Erjon Satko in a note to clients. A further selloff could come if "the new government includes euroskeptic elements."
Italian bonds aren't just a bellwether for local politics, but also for how investors feel about risk more broadly in the euro area. While the nation's economy has been hammered by the coronavirus, relative political stability and heavy support from the European Central Bank's quantitative-easing program has kept a lid on volatility and driven yields lower.
Prime Minister Giuseppe Conte's tenure has been thrown into turmoil once again after the Italy Alive party, a junior partner in his coalition, pulled out Wednesday over disagreements on how to disperse European Union recovery funds, robbing him of his majority in parliament.
Ten-year yields rose as much as seven basis points to 0.67%, with the spread over those on their German peers climbing to 120 basis points. That was a turnaround from yields falling to a record low last week. The sentiment spilled over to the euro, which declined 0.4% to $1.2111, its lowest level since December.
Italian Political Turmoil Comes Back to Haunt Euro Bulls: Chart
The country's economic troubles are reflected in the government seeking parliamentary approval for as much as 30 billion euros ($36 billion) of extra debt at a cabinet meeting Thursday evening, according to people familiar with the matter, who asked not to be named. The amount would cover both refunds to businesses hit by virus restrictions and a further extension of furlough payments, one of the people said.
Still, some investors are remaining steadfast in their belief that the ECB will keep any debt selloff in check, allowing them to snap up some of the highest-yielding government securities in the euro area. Citigroup Inc. said Thursday that it sees any widening of the spread over Germany as a buying opportunity.
"We see a snap election as still unlikely," strategists led by Aman Bansal said in a note, highlighting that the coalition will have EU funds to spend if it survives intact. "Other possibilities for a government should all be BTP-positive," they said, referring to Italian bonds.