Italian Bonds, Euro Decline as Economic Growth Forecasts Are Cut
(Bloomberg) -- Investors shunned Italian bonds and the euro as doubts grew about the strength of the region's economy.
Italy's benchmark notes fell for a third day after the European Commission slashed its growth forecast for the nation's economy to 0.2 percent from 1.2 percent. German bunds, which traders view as haven securities, rallied.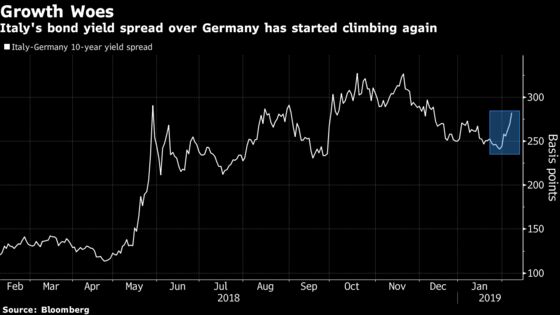 "This is short-term bad for Italian bonds," said Jens Peter Sorensen, chief analyst at Danske Bank A/S. "When in doubt, buy bunds."
The latest indictment of the stagnating euro-area economy adds to growing fears of a global slowdown, with conviction growing in the markets that the European Central Bank may have missed its chance to get interest rates back into positive territory. It comes of the back of similar downgrades from the International Monetary Fund last month. Bund yields fell to their lowest level since November 2016 as the growth forecast for Germany was trimmed to 1.1 percent from 1.8 percent.
Italian bonds have benefited in recent weeks from buoyant global demand for fixed-income securities. At a surprise sale of 30-year debt Wednesday, the nation received orders five times the offer size of 8 billion euros. The country has successfully managed to underwrite 12 percent of its funding needs for the year already.
Italy Pays Up in Euro Bond Sale Even After Record Order Flood
Still, the so-called BTPs remain the biggest source of investor concern in the region despite their strong recovery since the height of a budget conflict with the European Union last year. The economy's slowdown could mean a fiscal shortfall of as much as 9 billion euros ($10.2 billion) that would necessitate a budget revision for this year, the Il Messaggero newspaper reported Wednesday. The deficit is currently targeted at 2.04 percent.
Italian 10-year yields climbed as much as 10 basis points Thursday to 2.96 percent, the highest level since Jan. 9. Those on German bunds dropped three basis points to 0.13 percent, the lowest level since Nov. 2016. Italy's bond yield spread over Germany, a gauge of risk, widened to the highest level in nearly two months.
The euro slipped by as much as 0.3 percent to $1.1332, the weakest level since Jan. 25.
"As Italian data remains weak and European parliamentary elections approach, we would not be surprised to hear more euroskeptic voices re-emerge there," said Sphia Salim, an interest-rate strategist at Bank of America Merill Lynch. It will keep "volatility elevated," she said.