Treat Israel Like Other States, Oman Says
(Bloomberg) -- The Gulf state of Oman said it's time to acknowledge Israel's existence, articulating that outreach a day after a secret meeting between their leaders was divulged.
"I will say this for the first time: Israel is a state that is present in this region and we all know this," Foreign Minister Yusuf Bin Alawi said at the Manama Dialogue conference in Bahrain on Saturday. "Maybe it is time for Israel to be treated the same and also bear the same obligations as other countries."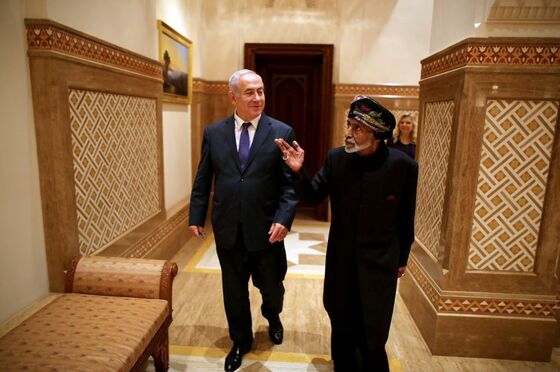 Prime Minister Benjamin Netanyahu's secret flight to the Omani capital, Muscat, on Thursday to meet with Sultan Qaboos bin Said was the first visit by an Israeli leader since 1996. The meeting held out the possibility that Oman might be involved in promoting U.S. President Donald Trump's as-yet unseen Middle East peace plan, even as Saudi Arabia's once-central role has come into question with the killing of journalist Jamal Khashoggi. Israel and Oman do not have official relations.
Netanyahu has often alluded to warming ties with Gulf Arab nations as he pushes for a regional rapprochement that is based on a common front against Tehran and doesn't depend first on the establishment of a Palestinian state.
Bin Alawi defended his position by highlighting the historical presence of Jews in the Middle East, pointing to Islamic texts that attested to that, and touting the mutual benefits of stronger Arab-Israeli ties.
"The Torah saw the light in the Middle East and the prophets of Israel were born in the Middle East," he said. "We cannot exclude anyone in this region." The Israeli government had no comment on Bin Alawi's remarks.
Trump's Middle East envoy Jason Greenblatt tweeted that the meeting was "a helpful step for our peace efforts" and said he was "looking forward to seeing more meetings like this."
Oman has at times played an outsized role in regional politics. Most prominently, Muscat hosted the back-channel talks between Iran and the U.S. under former President Barack Obama that paved the way for the 2015 nuclear deal that the Trump administration quit in May.
Oman was also the first Gulf nation to establish commercial ties with the Jewish state its 1993 accord with the Palestinians, though it shut down their trade offices after the second Palestinian uprising against Israel erupted in 2000.
A lack of progress in the peace process has pushed the Palestinian Authority to explore beyond traditional peace brokers, and President Mahmoud Abbas visited Oman just days before Netanyahu did. Abbas has ruled out meetings with U.S. officials since President Donald Trump announced in December that he would move the American embassy in Israel from Tel Aviv to Jerusalem, whose eastern sector the Palestinians want as a future capital.
Abbas told Palestine TV earlier this month that the Omanis have no vested interests in the conflict and are therefore a trusted party. Bin Alawi told state-run Oman TV late on Friday that Oman acting as a "facilitator" between the conflicting parties, and that its views on reaching a solution have been "accepted and appreciated" by the Israelis and Palestinians.
The only two Arab states that currently have diplomatic ties with Israel are Egypt and Jordan, though relations are bumpy.