It's Crunch Time for Theresa May
The long-threatened challenge to Theresa May's leadership is finally on.
By tonight, the world will know if the U.K. prime minister's enemies within the Conservative Party will have succeeded in ousting her as their leader or if she's once again defied her doubters and secured her job for another year.
May vowed in a terse statement this morning outside No. 10 Downing Street to fight the vote of no confidence in her leadership "with everything I've got." To prevail, she needs the support of a majority of her 315 Tory members of Parliament who will vote in a secret ballot.
The implications for Brexit are far-reaching. For better or worse, May has been the face of the U.K.'s negotiations, and she is determined to see the U.K. leave the European Union by March 29. But her carefully negotiated plan is so loathed that she had to pull it from a vote yesterday and embarked on a tour of European capitals to try and extract concessions.
The bulk of the dissent is from Brexiteers who see her proposal as a sell-out because it could keep the U.K. in the customs union indefinitely.
What May has going for her – and why she might just win – is that no one really wants her job right now. In the best case for May, the rebels in her party could be shown to have less support than they boast and be finally silenced. As she's proven many times before, her weakness is her strength.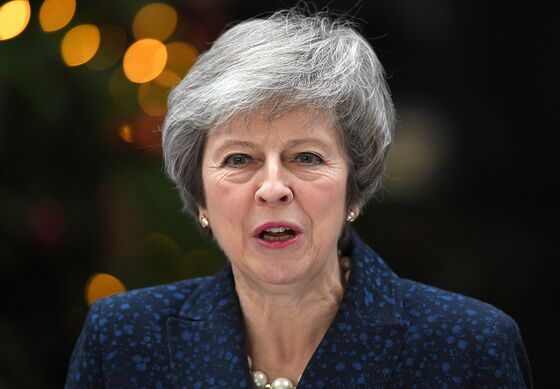 Europe's sorrow | There's a real sense of regret in EU capitals from Berlin to Brussels that the U.K. is leaving the bloc. But that doesn't translate into a willingness to reopen the terms of the Brexit withdrawal deal that's the source of May's woes. As Alan Crawford reports, patience is wearing thin across Europe at the endless political debacle in Brexit-obsessed Britain.
Vote mechanics | Between 6 p.m. and 8 p.m., Conservative lawmakers will gather in Room 14 of the Parliament complex to cast secret ballots on whether they still have confidence in May as their leader. The man who is controlling the process, Graham Brady, will announce the result at 9 p.m. in London. He said that if May loses, the vote for a new leader would be Tuesday and the final two candidates could be chosen by Dec. 20.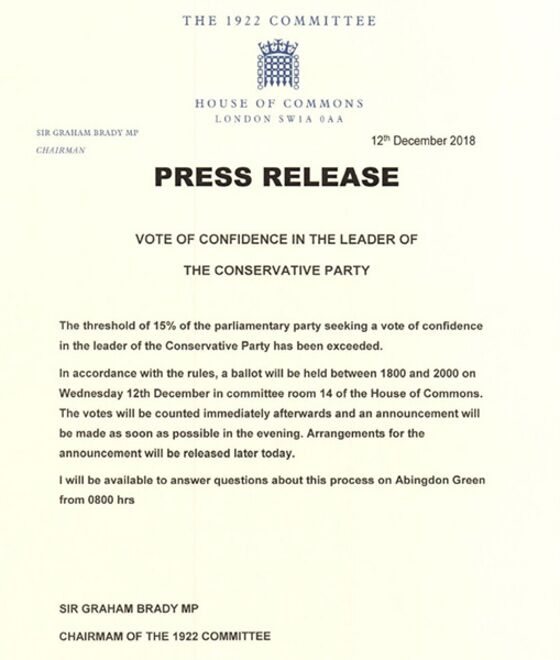 Trade war ransom | President Donald Trump told Reuters he'd intervene in U.S. efforts to extradite Huawei executive Meng Wanzhou from Canada if it helped him win a trade deal with China, making a rare foray by a U.S. president into criminal court proceedings and undercutting aides' efforts to keep the issues separate. Concerns about hostage-taking over trade were further inflamed by China's detention of a former Canadian diplomat. In Vancouver, Meng was released on bail pending further extradition hearings.
Wall wars | The dispute over funding for Trump's border barrier has turned publicly acrimonious, raising the chances of a partial government shutdown after Dec. 21. Trump confronted the two top congressional Democrats yesterday in a televised Oval Office meeting, saying he'd be responsible for any federal funding disruption. Incoming House Speaker Nancy Pelosi later privately bragged to other Democrats about the outcome, saying: "The fact is, we did get him to say, to fully own, that the shutdown was his."
Testing tolerance | Turkey's embrace of refugees from the war in neighboring Syria is straining tolerance on the ground. More than 3.6 million Syrians have found a home there since the conflict started in 2011, and hundreds of thousands of Iraqis and Afghans have followed. As Selcan Hacaoglu reports, an economic decline that's making jobs harder to come by and eroding spending power is fanning anger at President Recep Tayyip Erdogan's government for allowing them in.
Just in: Erdogan said Turkey will start an operation in northern Syria within days. Turkey has repeatedly threatened to attack Kurdish militants in the region who are backed by the U.S. but viewed by Turkey as an extension of a terrorist organization, the PKK.
House Democratic leaders are downplaying the possibility that they'll quickly seek Trump's impeachment after they take over the chamber in January, but the steady trickle of revelations against the president may make it harder to say no, Billy House and Arit John write.
A Manhattan federal judge will have to decide at a sentencing hearing today between two competing portraits of Trump's longtime fixer, Michael Cohen: the greedy lifelong liar or the family man who made some mistakes.
And finally ... A string of alleged financial scandals surrounding South Africa's self-styled party of the poor has critics mocking the Economic Freedom Fighters as "Gucci revolutionaries." After rising quickly to become the nation's third-largest political force in five years with sometimes theatrical stunts – its lawmakers wear red miners' coveralls and maids' uniforms to parliament – a recent poll shows its support may be ebbing. That's music to the ears of the ruling African National Congress before elections in May.