It's All About Catalonia as Spain Electoral Campaign Begins
(Bloomberg) -- Spain's opposition aimed swipes at Prime Minister Pedro Sanchez for attempting to negotiate with Catalan separatists, in a strong indication of how the country's electoral campaign is likely to play out.
Sanchez, who last week called a snap election for April 28 after his budget plan was rejected in parliament, has been criticized by the opposition parties for opening talks with the protagonists of an attempt in 2017 to defy Spain's constitution and engineer Catalonia's split from the rest of Spain. That's angered many Spaniards who think the nationalists should be punished, not wooed.
"Mr. Sanchez, it's very simple, even a seven-year-old girl can understand it: you can't govern a country with someone who wants to liquidate your country," Ciudadanos leader Albert Rivera said Sunday at a political rally. "We now have two problems: separatism and an ally of separatism" at the head of the government.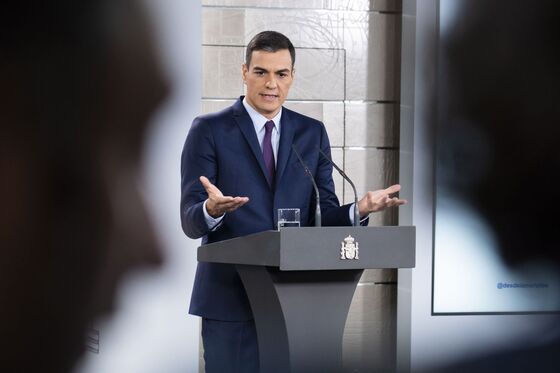 Rivera's center-right Ciudadanos party has risen in the polls by taking a hard line against the Catalan regional government's attempt to stage an illegal referendum in October 2017. After persuading Catalan separatists to help him oust his predecessor Mariano Rajoy in a no confidence vote last year, Sanchez has tried to defuse tensions while courting their votes in order to push through legislation with his minority government.
People's Party leader Pablo Casado went a step further Sunday by announcing he would reimpose direct rule from Madrid on Catalonia indefinitely. When still in government, the PP invoked emergency powers under Article 155 of the constitution, allowing the central government to suspend Catalan self-rule.
"The Spanish have seen that they were negotiating national sovereignty with the independence parties," Casado said in an interview in Heraldo de Aragon.
Last week, Socialist support was on the rise, according to a poll by Metroscopia published today by news website La Informacion. The government party had 27.6 percent in the survey, the highest since October, and well above the 22.7 percent it had in the 2016 elections, according to the survey. The PP had 20.5 percent, compared to 33 percent in 2016. Ciudadanos had 15.4 percent. The poll was done between Feb. 11 and 13, before Sanchez called elections.
Perhaps conscious that he may need them as allies to form a government, Sanchez didn't mention Catalonia's nationalists in his first speech since setting the election date, even though their failure to support his budget precipitated his election call.
Sanchez instead warned that an alliance of right-wing parties risks veering toward extremism if it embraces Vox, a party shook up Spanish politics in December. That's when it helped topple the Socialists in a regional election in Andalusia on an anti-immigration ticket and pledged to remove autonomous rule from Spain's regional governments.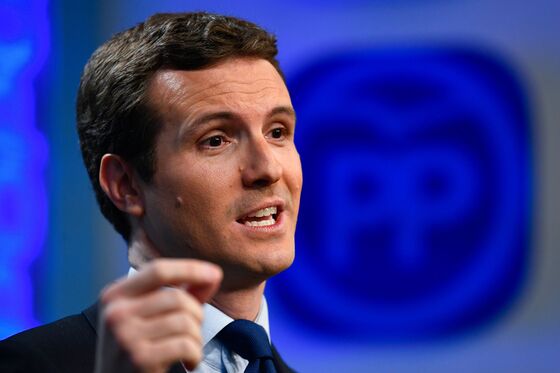 While the Socialists are projected to win most votes in the elections, it's a right-wing coalition of PP, Ciudadanos and Vox that is considered the most likely to strike a pact to form a government. The Socialists would increase their presence in parliament by 34 seats to 119 but a plunge in support for the anti-establishment Podemos party would leave Sanchez short of the 176 seats he needs, according to a GAD 3 survey published on Sunday by La Vanguardia. A repeat of the PP-Ciudadanos-Vox coalition used to form a government in Andalusia would fall just 3 seats short, according to GAD 3's poll.
The survey shows Sanchez could team up with Rivera to form a government, but the Catalan issue has seen the Ciudadanos leader distance himself from the Socialists and he was quick to rule out such an alliance last week.
The political uncertainty isn't likely to have a significant effect on Spain's economy, which while slowing is expected to continue growing, credit agency DBRS analysts Javier Rouillet, Nicolas Fintzel and Nichola James wrote in a Feb. 15 report.
"The main risk related to the upcoming elections refers to the potential resurgence of heightened political tensions between" pro-independence parties in Catalonia and a conservative national government, DBRS said in the report.
It looks like other issues in Spain will play second fiddle to the Catalan issue in the campaign. Sanchez sought to highlight the benefits Spaniards will miss out on because of their decision to reject his budget plan. The PP's Casado said he will lower income and corporation tax to below 40 percent and 20 percent respectively.
Ciudadanos's Rivera, meanwhile, sought to distinguish himself from his rivals by criticizing Sanchez's attempts to exhume the body of former dictator Francisco Franco and goaded Casado for his views on abortion.