Israel Telecom Regulator Says Open to Bezeq Reorganization
(Bloomberg) -- Israel's Communications Ministry is open to approving structural changes the country's largest telecommunications firm set out as part of a strategy to boost sagging growth.
The ministry is having "very serious discussions" with the management of Bezeq Israeli Telecommunication Corp. regarding the company's plan to consolidate its operating units into two divisions instead of four, said Netanel Cohen, the ministry's director general. The reorganization could yield as much as 700 million shekels ($189 million) of savings, according to Barclays Plc analyst Tavy Rosner.
"The question is not if structural separation is needed, but rather, which structural separation?" Cohen said in an interview at Bloomberg's Tel Aviv office, referring to a government policy that forbids Bezeq from merging its units under one roof or bundling its customer offerings. "There will be structural separation, but the current model may change. The other telecom companies are not happy to hear this, but we're listening."
Bezeq's plan to merge some of its units is the cornerstone of new Chairman Shlomo Rodav's turnaround strategy, and is contingent on regulatory approval. The telecom giant is looking to cut costs to halt the decline in profits -- now three years running -- as competitors take customers in areas Bezeq where had long been dominant, namely television and internet services.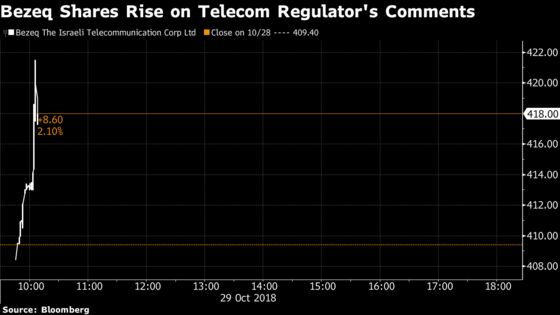 The company's shares gained on the news, rising as much as 3 percent, the most in more than six weeks. B Communications Ltd., which owns the largest stake in the telecom giant, jumped as much as 5.2 percent.
Guy Hadass, Bezeq's vice president of corporate communications, declined to comment.
Removal of structural separation has been one of the most contentious issues in Israel's telecom industry this decade. Rivals Cellcom Israel Ltd. and Partner Communications Co. have lobbied to keep these roadblocks in place, arguing that Bezeq would use its dominant infrastructure position to crush competition.
That opposition, coupled with corruption investigations into Prime Minister Benjamin Netanyahu and former Bezeq executives and shareholders, has frozen progress on cancelling structural separation. Reforms that allow competitors to use Bezeq's infrastructure have boosted competition, and ending structural separation now would undo those gains, Cohen said.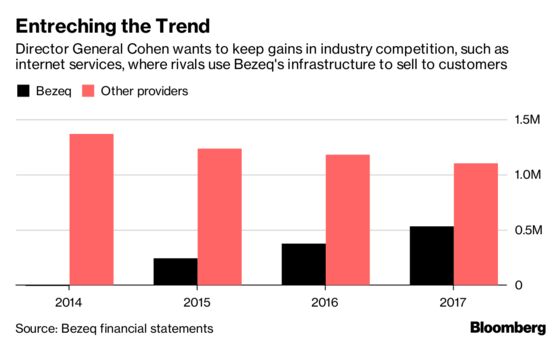 Still, there may be room to accept Bezeq's proposals, and the ministry is considering how to regulate the newly designed company, he said.
"Bezeq is a very important company, important to Israel's telecom industry," Cohen said. "There's an understanding that things ought to be done in cooperation. Their management understands that they have to work with us and not against us."