Israel's Defense Minister Quits, Calls for Early Elections
(Bloomberg) -- Israel's defense minister resigned over the Gaza Strip cease-fire and said the country should hold elections "as soon as possible."
Defense Minister Avigdor Liberman, who has urged the government to strike a harsh blow against Gaza's Hamas rulers, quit after the security cabinet decided to accept a truce halting a two-day flare-up of fighting in Gaza.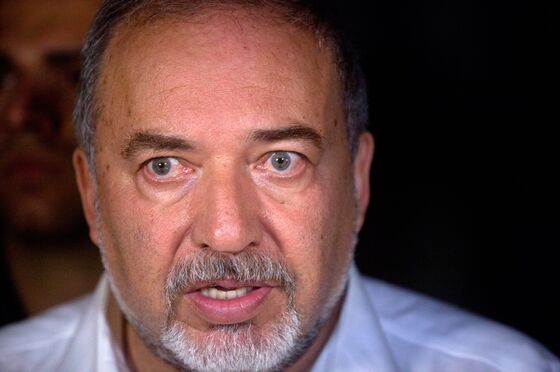 The cease-fire, and attempts to reach a long-term truce are "a capitulation to terrorism," Liberman said at a news conference. "There's no other way to look at it."
He also faulted Netanyahu's decision to allow Qatar to transfer $15 million to Gaza to ease the dire humanitarian situation there, saying the money would go to support families of militants who attacked Israel.
Liberman's decision to leave his five-member Yisrael Beitenu faction in the coalition didn't necessarily ensure it would remain intact. The Israel Hayom newspaper, without saying where it got the information, reported that the eight-seat Jewish Home party will also pull out of the government if its chairman, Naftali Bennett, doesn't receive the defense portfolio.
If the party quits, that would leave Netanyahu without a parliamentary majority.
Liberman's resignation follows months of speculation about whether the prime minister will dissolve the government and move up elections, now scheduled for November 2019.
A two-year-old corruption probe against Netanyahu is inching toward conclusion, with Attorney General Avichai Mandelblit due to decide whether to indict him in three separate cases. Some commentators have reasoned that if the prime minister goes to early elections and wins big, it would be harder for Mandelblit to take action against him.
Netanyahu has denied any wrongdoing and has contended he's the victim of a leftist cabal out to bring down his conservative government. Polls have shown he'd win an early election.
Liberman has had a volatile history with Netanyahu, joining forces then bolting several times in the two-plus decades in which their political careers have crossed. A defense hawk, he joined the government in May 2016 after Netanyahu forced out his previous defense minister, Moshe Yaalon.