Israel Risks Falling Behind on Inflation in Bid to Weaken Shekel
(Bloomberg) -- For much of Bank of Israel Governor Karnit Flug's five-year term, she fought tooth and nail against shekel bulls as they propelled the currency to record highs, undercutting exporter profits.
Now, as the shekel finally weakens amid a global surge in the dollar, Flug is facing a new conundrum: what to do about the reappearance of inflation as her term comes to an end? If she adopts a more hawkish stance, she risks giving back the shekel weakness she fought so hard for. If she sticks to her current policy, she risks falling behind on rising prices.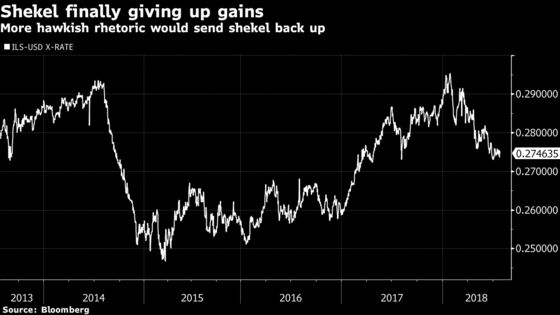 For now Flug is prioritizing the currency, charting out a slow trajectory of interest-rate increases. At the bank's July 9 monetary policy discussion, Flug said the central bank wants to see annual inflation inside its target range of 1 percent to 3 percent for several months before it will begin normalizing rates.
For Rafael Gozlan, chief economist at Israel Brokerage & Investments Ltd., that signals further shekel weakness ahead.
"Flug's announcement that the Bank of Israel intended to wait until inflation, especially actual inflation as opposed to expectations, settled down, essentially positions the bank behind the curve at this stage," said Gozlan. He predicted that inflation-linked bonds would gain as the market's inflation expectations rise.
As in the rest of the developed world, inflation has largely been absent in Israel for the past three years but is now rising, spelling the end of the global easy-money era. The BOI's monetary policy committee has kept its benchmark interest rate at a record low of 0.1 percent for the past three years and bought billions of dollars to keep the shekel from appreciating too quickly.
Leading up to the last rate decision, investors started betting the central bank would get ahead of the curve and signal a more hawkish stance. With prices rising for everything from wages to rent to food, Israel's benchmark bond yield surged 19 points higher in the month leading up to the decision. Then came Flug's carefully worded message on inflation, which investors interpreted as dovish, sending yields down 14 basis points in the two days following the decision.
"We believe that despite the overall rise in headline inflation and robust growth dynamics, the monetary policy committee will deliberately keep its dovish communication style at least until year-end in order to fend off renewed appreciation pressure on the shekel," said Christian Wietoska, emerging-markets fixed-income strategist at Deutsche Bank AG in London.
Israel's economic growth has surpassed analyst expectations in recent quarters, and the central bank's research department expects it to reach 3.7 percent this year. Prices are expected to rise 1.4 percent over the next 12 months. Yet Flug doesn't want to pull the trigger on rates before she's certain inflation has found its footing.
It may well fall to the next governor to steer the bank in a new direction. Finance Minister Moshe Kahlon and Prime Minister Benjamin Netanyahu have been meeting with candidates to replace Flug, whose five-year term ends Nov. 12. The governor, who has clashed with the two men over how to steer Israel's economy, told Netanyahu earlier this month she won't seek to extend her tenure.
The BOI's research department anticipates interest rates rising to 0.25 percent in the fourth quarter of this year, with another increase in the third quarter of 2019. That pace suggests a significant gap could open with the U.S., where the lending rate is already at 1.75 percent to 2 percent and is expected to rise more quickly.
Those projections are leading analysts to revise their forecasts for the shekel, with the median estimate among seven contributors surveyed by Bloomberg predicting the shekel will trade at 3.61 per dollar by year end, compared with an estimate of 3.45 at the start of the year.
"The Bank of Israel has no need to change its stance aggressively, and for now the Bank of Israel is in fact welcoming the depreciation seen on the foreign currency front," Wietoska said. "Nevertheless, there's a limit to how wide the gap in interest rate differentials to the U.S. can become."