Israel Orders Partial Shutdown of Economy in Fight Against Virus
(Bloomberg) -- Israeli's Benjamin Netanyahu ordered the closing of non-essential businesses and advised workers to stay away from offices, the latest steps the prime minister has taken to contain the coronavirus.
To whittle down the size of crowds in public spaces and slow down the infection's spread, Israel will close cafes, theaters and restaurants, Netanyahu said on Saturday.
"We can beat the virus," Netanyahu said. "But it will take a new daily routine."
There have been 193 confirmed cases of the illness in Israel, with four recoveries and no deaths, according to the country's health ministry. Netanyahu said he plans to use technology that Israel used to fight against terrorism for a "quick and effective" search of patients.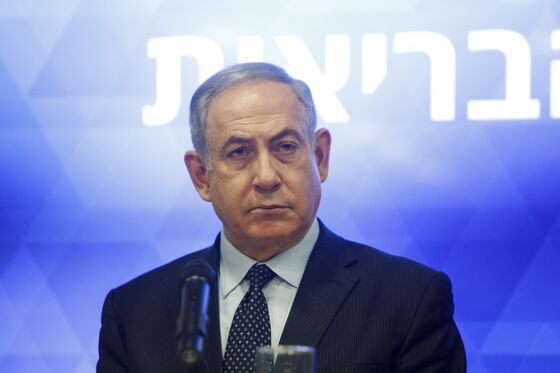 The prime minister had until now avoided the use of these tools, but he said now "there is no choice."
Last week, Israel tightened its borders with a blanket directive of two-week quarantine for all foreign arrivals, adding to other measures that have drastically impaired the country's tourism and aviation industries.
The government set aside 10 billion shekels ($2.7 billion) for loans to businesses negatively impacted by the coronavirus outbreak. Israel's finance ministry forecasts a significant decline in economic growth, given that tens of thousands of people are now in quarantine, and given the lack of certainty as to when the government will lift the emergency measures.