Israel Seals Jerusalem Holy Site After a Firebomb Is Thrown
(Bloomberg) -- Israeli police barred entry to Jerusalem's holiest shrine after a firebomb was thrown at a police post nearby, as tensions at the contested site escalated in the run-up to Israeli elections.
Three suspects were arrested, a police spokesman said. Video footage broadcast by al-Jazeera TV showed police scuffling with Palestinians during a search for the culprits, and Palestinian Authority President Mahmoud Abbas warned of "serious repercussions."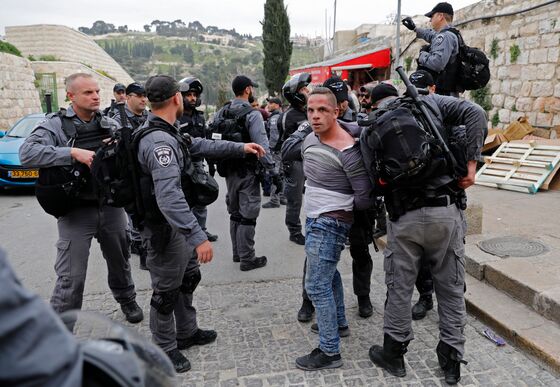 The site will reopen Wednesday morning for worshipers and visitors, and two underage suspects linked to the event will be brought to court, a police spokesman added Tuesday evening.
The hilltop compound lies at the heart of the Israeli-Palestinian conflict and is a frequent lightning rod for violence. It's revered by Muslims as the site of the Al-Aqsa mosque and is venerated by Jews as Temple Mount, the site of their biblical temple. While Israel is in charge of the compound's security, Jordan, through an Islamic trust or Waqf, is the religious custodian.
Tensions have risen there in recent weeks after Muslims reopened a building that had been closed at Israel's order for 16 years.