Israel Central Banker Wraps Up Her Term, With Praise and Regrets
(Bloomberg) -- Some might think Karnit Flug didn't have much to do during her five years as Bank of Israel governor. Under her leadership the central bank cut its benchmark interest rate to a record 0.1 percent in March 2015 and hasn't budged since.
Flug doesn't see her tenure that way. As she completes her term Tuesday, the first woman to lead Israel's central bank says she contributed to the economy's stable growth; made its banking sector more competitive; and pushed back against government policies she feared put short-term political gains over the economy's long-term health.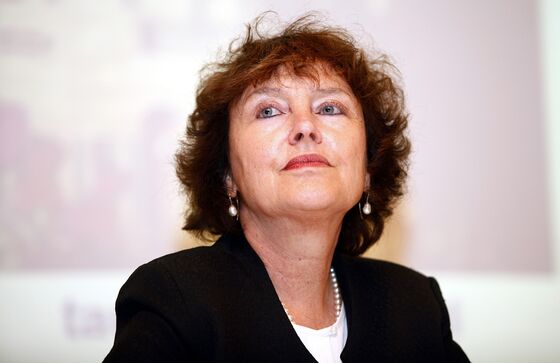 "I have a lot of satisfaction regarding the contribution of our policy to the good shape of the economy," Flug, 63, said in an interview in her Jerusalem office. "We achieved what we set out to achieve."
Flug succeeded her former boss, Governor Stanley Fischer, in 2013 after Prime Minister Benjamin Netanyahu failed to woo more famous names. Relations with Netanyahu and Finance Minister Moshe Kahlon were testy, with clashes over tax policies, budgetary priorities, a banking reform designed to increase competition and her efforts to rein in the shekel.
Kahlon acknowledged disagreements with Flug, but said they were mostly confined to tax policy. "On most things we worked together well," he said in a speech to accountants Monday.
Flug worried that cutting taxes now on the strength of a one-time revenue windfall -- from the $15 billion sale of autonomous driving software developer Mobileye NV to Intel Corp. -- could lead to larger budget deficits later and lose the hard-won achievement of reducing Israel's debt-to-gross domestic product ratio to about 60 percent.
"I think it's important to have an independent institution with strong professional capabilities that is sort of removed from the political system, that can look and analyze policy desirability form a longer-term perspective," she said. "I think that's true always, but especially when the political system tends to be focused more on short-term benefits and gains."
Avi Simhon, Netanyahu's top economic adviser, feuded with Flug over the bank's foreign currency purchases, which curbed the shekel's strength. He said the program, inherited from Fischer, blocked necessary changes in the economy by subsidizing unproductive exporters. Flug pushed back, saying the purchases came in response to a variety of factors strengthening the currency, including low interest rates worldwide.
Israeli central bankers wear a second hat as economic adviser to the government, and in that role, Flug also sought to broaden Israel's economic resurgence to all sectors of society. She prodded policy makers to drill beneath strong top-line growth figures to make sure government programs benefit poorer demographic groups.
Rafi Gozlan, head of research at Israel Brokerage and Investments Ltd. in Tel Aviv, said a willingness to stand up for her principles is a central element of Flug's legacy. He cited her resistance to calls for negative interest rates early in her term, and the government's tax cut plans.
"I think we should really respect that she stood her ground, and ultimately she was right," Gozlan said. "Her term was quite successful: The changes in monetary policy were not dramatic, but you can also judge her by the overall performance of the economy, which was quite good."
Flug said she has regrets: She couldn't prevail on authorities to establish a financial stability committee to help coordinate among financial regulators, or to raise the retirement age for women by five years to 67 to match that of men.
She wouldn't outline what advice she had for her successor, Wharton finance professor Amir Yaron, and said she will sort out her professional plans only after she returns from a vacation to Rome.
"It feels strange to leave: It's not just a five-year term, it has been a 30-year career at the bank," Flug said. "I feel a lot of satisfaction for what I've achieved, for what the bank has achieved, but it's also sad to leave a place that you like and that you've been identified with so closely."