How an Isolated Trump Insulted Allies and Dismissed the World at UN
(Bloomberg) -- President Donald Trump arrived at the United Nations this week looking to rally global support against Iran and show that his policies on North Korea were lowering the risk of nuclear war.
By Wednesday, he made clear he didn't care whether he persuaded anyone.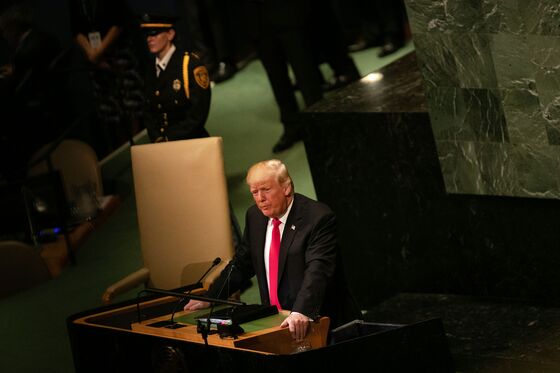 "It doesn't matter what world leaders think on Iran," he said after absorbing criticism from America's allies up close, insisting that "Iran's going to come back to me and make a deal."
The comment was emblematic of Trump's entire approach at a meeting many world leaders use to help narrow divides, not widen them. After doubling down on his "America First" approach, with its insistence on national sovereignty and rejection of globalism, he'll leave New York this week with allies and adversaries as frustrated as ever with the U.S. over issues from trade to climate change to Iran's nuclear program.
For a meeting of diplomats, there was little diplomacy to be seen on either side.
The pushback on Trump and his approach to foreign policy started during his speech to the UN General Assembly on Tuesday, when a murmur of laughter greeted the president's claim that his administration had accomplished more than almost any in U.S. history. A day later at a Security Council meeting he hosted, Bolivian President Evo Morales, who has longstanding anti-American sentiments, insulted the U.S. to Trump's face, saying America had no interest in upholding democracy.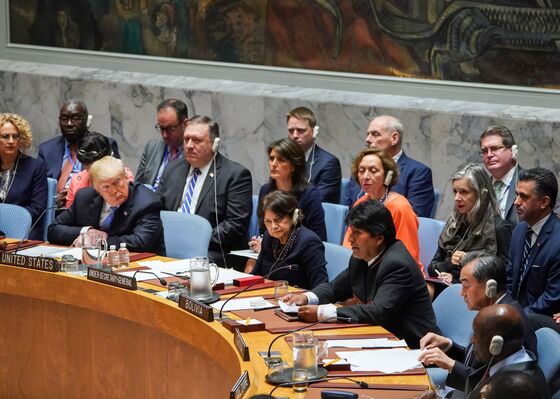 More surprising was the chiding from allies.
In a reference to Trump's rebuke of alliances and multilateral institutions, U.K. Prime Minister Theresa May said that delivering for citizens at home "does not have to be at the expense of global cooperation." French President Emmanuel Macron disputed Trump's claim that ties with France were "99 percent good," saying "the disagreements are known and they are more than 1 percent," citing a divergence over issues including climate change and Iran.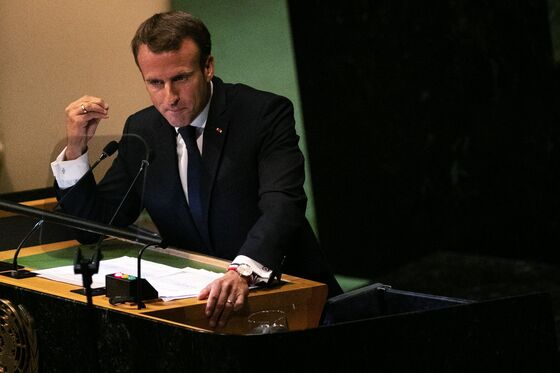 "It's never been like this before," said Daniel Kurtzer, a former ambassador to Egypt and Israel under President George W. Bush who's now a professor at Princeton. "U.S. policy always has engendered opposition from allies -- Germany and France during the 2003 invasion of Iraq -- but what's new is the derision."
No one was in a bridge-building mood. With U.S.-China trade tensions only getting worse, Trump suggested his much-touted friendship with President Xi Jinping was coming to an end, and accused Beijing of interfering in the upcoming U.S. midterm elections.
Chinese officials angrily rejected the accusations Thursday, saying the U.S. was "smearing" their country.
Almost as glaring was the mini-drama that unfurled at a luncheon for leaders on Tuesday, when cameras caught the president ignoring Canadian Prime Minister Justin Trudeau's attempt to say hello. Trump then curtly shook his hand but would not get up from his seat as he did for other leaders.
Trump later said at a free-wheeling press conference Wednesday evening that he rejected Trudeau's request for a one-on-one meeting, saying "Canada has treated us very badly." Trudeau's office later said he had never sought a meeting.
"Lashing out at the Canadians in highly personal terms was diplomatic carnage," said Richard Gowan, a senior fellow at the United Nations University's Center for Policy Research. Gowan called Trump's more than hour-long press conference "a steaming hot mess."
Trump and his team believe they can afford to be dismissive. Iran's economy has been pinched by U.S. sanctions that he vows will only get tougher. Trump said his outreach to North Korea helped stave off a nuclear war that looked imminent when he came to office. If Canada doesn't back down on dairy tariffs, Trump argued, he'll just tax cars imported from the north.
"The world loathes what Trump says, but they pay deep attention to the new credible threats of economic and military coercion," said Charles Lipson, professor emeritus of political science at the University of Chicago. "Trump sees the old international order as fundamentally unsustainable."
As the week went on, domestic politics proved to be increasingly distracting, with stories about his embattled Supreme Court nominee Brett Kavanaugh crowding Trump's foreign policy agenda out of the headlines.
That led to some awkward moments. Most glaring was during the opening of his meeting with Japanese Prime Minister Shinzo Abe, when he accused Democrats of "bringing people out of the woods" to smear Kavanaugh, who will confront allegations of sexual assault at a Senate hearing on Thursday.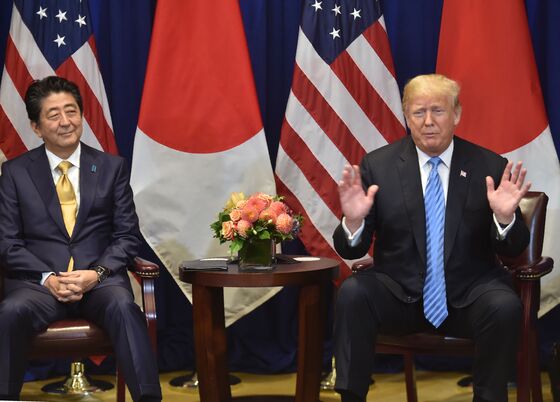 "They can do that to anybody, they can to it to anybody," Trump said as he sat next to Abe. "Other than perhaps Prime Minister Abe because he's so pure."
As his UN trip wound down, Trump declined to acknowledge the distress he appeared to have left in his wake. Asked about the laughter that greeted the opening of his General Assembly speech, the U.S. president said the audience was laughing with him, not at him.
"We had fun," Trump said. "People had a good time with me."