Irish PM Varadkar Set to Lose Power, Betting Odds Signal
(Bloomberg) -- Irish Prime Minister Leo Varadkar is poised to lose Saturday's election, betting odds indicate, with the party that oversaw the nation's international bailout set to return to power.
Micheal Martin, who leads the biggest opposition party, Fianna Fail, has a 94% chance of heading the government, Paddy Power odds signal. Varadkar has a 9% shot of returning to power after the ballot, according to the odds.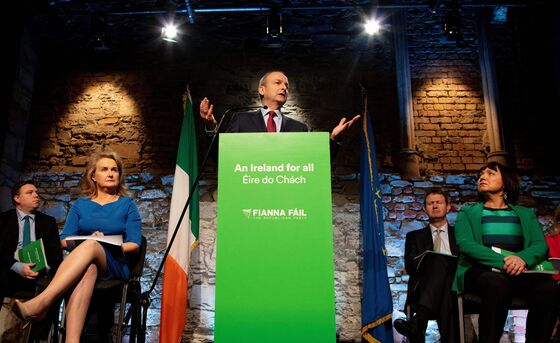 Polls indicate Martin will need coalition partners to govern. While Martin has ruled out bringing Sinn Fein into government, that's the most likely outcome, odds indicate, with Paddy Power placing a 25% chance on that possibility. Another alternative could see Varadkar propping up a minority administration led by Martin.
Fianna Fail is set to win 59 seats, and Fine Gael 34, the bookmaker said. Sinn Fein may get 30 seats, the Greens 9 and the Labour Party 6. Independents are on track for 17 seats.
Analysts and traders study bookmakers' odds to help predict the outcome of market-moving events, though their reliability was dealt a blow in the 2016 referendum on the U.K.'s membership of the European Union.