Irish Israel Bill Passes Hurdle in Nation's Parliament
(Bloomberg) -- A plan to stop companies in Ireland trading with firms or people based in Israel's West Bank settlements moved a step closer to becoming law Thursday, after lawmakers backed it in the latest stage of the nation's legislative process.
The proposal, which aims to prohibit the purchase of goods or services produced in settlements, passed the so-called second stage in the Irish parliament by 78 votes to 45.
Ireland's minority government opposed the bill, which passed with support from opposition parties and independent lawmakers. Several steps remain before the proposal would become law, during which it could be altered or effectively killed.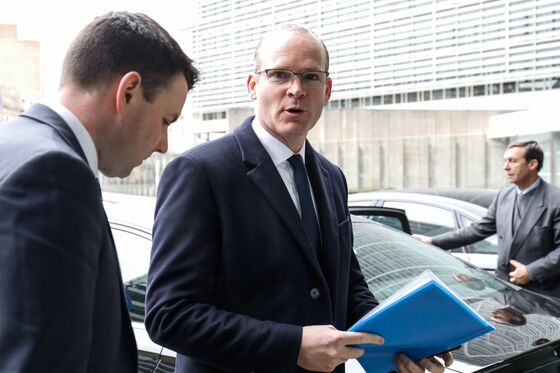 The bill is "not legally sound," Irish Foreign Minister Simon Coveney said in parliament Wednesday. "These are issues we need to discuss at an EU level."
Prime Minister Benjamin Netanyahu's bureau said in a statement that Israel was outraged over a measure that reflected "hypocrisy and anti-Semitism." The Irish ambassador would be summoned for a reprimand on Friday, Netanyahu said.
"Instead of Ireland condemning Syria for slaughtering hundreds of thousands of civilians, Turkey for the occupation of Northern Cyprus and the terrorist organizations for murdering thousands of Israelis, it attacks Israel, the only democracy in the Middle East. What a disgrace," Netanyahu's bureau said in the statement.
The proposal raises questions as to whether it could hit U.S. tech firms with Irish and Israeli operations. Facebook Inc., Apple Inc., and Alphabet Inc.'s Google are among firms with offices in both countries.
"We believe that the provisions in relation to its trade and investment implications require further examination, particularly in the context of the recently announced US-EU Trade Agreement negotiations," the American Chamber of Commerce Ireland said in an e-mail response to questions before Thursday's vote.
The organization is also asking its members if the plan could caused them problems, given that U.S. law bans American companies from complying with overseas boycotts.
Israel conquered the West Bank from Jordan in the 1967 Middle East War, and the Palestinians claim it as part of a future state, a stance that has wide backing in Ireland. Israel considers the area disputed rather than occupied territory.