May Faces `Contempt of Parliament' Debate: Brexit Update
(Bloomberg) -- Prime Minister Theresa May is trying to win approval for her Brexit deal ahead of a vote on Dec. 11.
Speaker Bercow grants emergency debate over whether government is in contempt of Parliament over refusal to release full legal advice
Government releases summary of legal advice on Brexit deal: it doesn't contain the parts that members of Parliament were keenest to see
Negotiator Olly Robbins says the Irish backstop would be uncomfortable
Attorney General Geoffrey Cox tells Parliament he doesn't think U.K. will be trapped in Irish backstop
Conservatives Filibuster to Buy Thinking Time (10 p.m.)
Facing a sudden motion of contempt Tuesday, government ministers have until Parliament rises on Monday evening to table an amendment that might save them. That means that Foreign Office Minister Alan Duncan, who was winding up what had been a gentle end-of-day debate about Scotland's role in foreign policy, had to filibuster to give them time. "I seem to have got second wind," he told the chamber, before discussing Scottish inventors, music, his own Scottish ancestry, and anything else he can think of. Conservative members of Parliament rushed back into the chamber and helped by intervening on Duncan with their own thoughts on Scotland's impact on the world.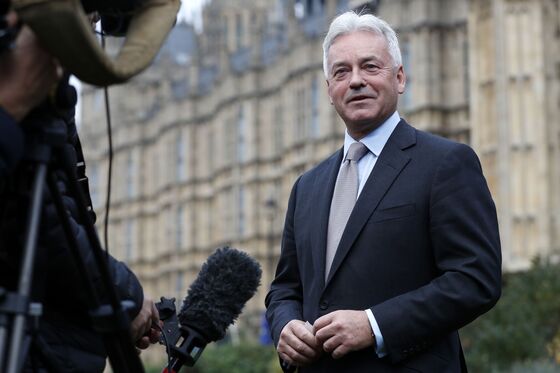 Bercow Grants Emergency Contempt Debate for Tuesday (9.30 p.m.)
Speaker of the House of Commons John Bercow torpedoed May's plans to sell her Brexit deal as he granted an emergency debate into whether she was in contempt of Parliament. He said there was an "arguable case that a contempt has been committed" after the government refused to release the full legal advice about May's Brexit deal, despite a Parliamentary vote that it should do so. The debate will be the first order of business Tuesday, pushing back the schedule for the first of five days of discussion of the deal.
The government is likely to lose any vote on this, as the legal advice is wanted by many Tories, as well as the Democratic Unionist Party, which has an agreement to support it on some votes. Possible sanctions if a minister is found in contempt of Parliament would be suspension from the chamber. But even if that doesn't happen, the debate is likely to highlight the difficulty May faces in getting any Brexit agreement through a fractured Parliament.
Opposition Requests Contempt Ruling Over Legal Advice (6 p.m.)
Six opposition parties have joined forces to request that Speaker Bercow to consider contempt proceedings against the government for refusing to release the Attorney General's full advice to the Cabinet, which lawmakers asked to see. Cox has said that this would violate usual principles of government, and that he is happy to answer questions on his legal opinion to any member of Parliament who wants to ask. Bercow said he would respond tonight or tomorrow. The government's view is that this is a question for the Privileges Committee. That body isn't likely to come to any conclusions quickly.
Cox: Irish Backstop is 'A Risk Worth Taking' (5.15 p.m.)
Cox, in a very rare statement to Parliament on his legal opinion on the Withdrawal Agreement, has taken on critics of the deal. He confirmed that there would be no unilateral power to leave the Irish backstop if the U.K. entered it. "Let me make no bones about it," he said. "We are indefinitely committed to it."
But he said that, having "wrestled" personally with the issue, he believed it to be "a risk worth taking." He said the EU was keen to avoid the U.K. entering the backstop and would be keen to avoid the U.K. staying in it. He refused to publish his full advice to Cabinet, but said that if any member of Parliament had a question about his advice, "I am here to be asked."
New Brexit Secretary Stephen Barclay said it will be "challenging" to win next week's key vote on May's deal, and "everyone recognizes that."
Barclay told the Brexit select committee he's "confident" the deal can be delivered but many MPs have "already spoken out" about their reasons for opposing it. If May loses the vote, the government "will have to look at the consequences in due course," Barclay said, adding that it could spell no deal, or no Brexit.
"Parliament will have a view on this as well," he said. That last point could be a hint that he expects MPs will want to take over the process and try to direct the government's next moves in order to prevent a no-deal exit.
U.K. To Pay Long-Term Brexit Bill in Euros (2.30 p.m.)
The section of Cox's legal summary dealing with the 39 billion pound financial settlement makes no mention of any plan for the U.K. to withhold the cash. Pro-Brexit Tories want May to refuse to hand over the money if the EU doesn't give Britain a good trade deal in the future.
During the transition period, the U.K. will carry on paying into the EU budget "almost" as if it were still a member, and those payments will be made in pounds. After that period comes to an end, future payments will be made in euros, the document says. The pound has weakened 14 percent against the euro since the referendum.
Britain will also have to appoint auditors to assess whether it's complying with its obligations to pay what it owes, the document says.
It's not all one-way traffic. The U.K. will gain a share of certain EU assets, including fines levied, and a share of net assets of the European Coal and Steel Community in liquidation.
Government Releases Summary of Legal Advice (2:25 p.m.)
The government has published a summary of its legal advice, after resisting calls from members of Parliament to release the whole thing. The document is more a summary of what the Brexit deal says than an analysis of the legal implications.
MPs skeptical about May's Brexit deal want to know whether the Attorney General thinks the U.K. could be left trapped in the controversial Irish backstop indefinitely. The document sets out that the U.K. can extricate itself only by mutual agreement. Any use of the "good faith" clause to get out of it would have to be supported by "clear evidence," the paper says.
MPs are unlikely to be satisfied.

There's a Lot Irish Backstop Won't Cover (1.45 p.m.)
May's Brexit adviser Oliver Robbins set out why the Irish border backstop would be a problem for the U.K. if it ever came into force. It won't cover security cooperation -- which will be at risk -- or any trade in services, he told Parliament's Brexit committee.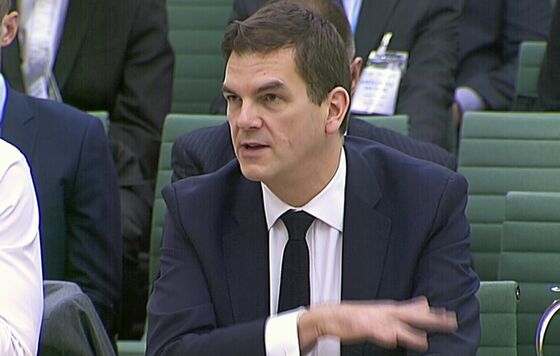 Robbins also argued the plan -- which is a fall-back guarantee to avoid border checks at the frontier with Ireland -- is not ideal for the EU, either. It's "uncomfortable" for both sides, he said.
Government is set to publish a summary of its Brexit legal advice at 2 p.m.
May speaks to Parliament about G-20 at 3:30 p.m.
Attorney General Geoffrey Cox speak after May